Overon provides broadcast services in Brussels and Havanna
The operation allowed Overon to provide live link-ups for clients from a host of key spots in and around Brussels bringing all the breaking news to viewers from Zaventem Airport, Maelbeek underground station, the Stock Exchange, the Court buildings, from outside the European Council as well as other points of maximum news interest in the Molenbeek and Schaerbeek areas of the city.
Overon provided news coverage which included more than 350 live link-ups. A 26-strong team supplied more than 40 TV stations both national and international including: TVE, Antena 3, laSexta, Telecinco, Cuatro, TVG, Canal Sur, IB3, ETB, Telemadrid, TV3, TV Aragón, TV Castilla La Mancha, 13TV, 8TV, ABC News, CNN, BBC, Seven Network, Al Jazeera News, Al Jazeera Balkans, M6, HRT, France 24, NHK, RTTV, TV3 Nueva Zealand, ZDF, France 3, RTP, CCTV, RTI, Nova TV, ITN, EFE and Aldeavision.
From Havana, coverage of President Obama's visit to Cuba and the Rolling Stones concert
The 20th, 21st and 22nd March, coinciding with President Obama's historical trip to to Cuba, Overon together with Overon America provided comprehensive broadcast coverage of the visit to the Island with a 12 strong team which included 2 satellite operators, 2 chief technicians, 1 producer flown in from Madrid together with 1 producer from the Miami office, 4 cameramen and two local back-up staff with 2 HD/SD fly-aways. The technical equipment was flown in from Spain.
One of the fly-aways was located in a spot called the "La Piragua" from where viewers got views of the iconic Malecón as well as the American embassy. The second camera was located in the Habana Libre Hotel, home of the international press centre, an excellent spot to offer images of the Havana sky-line.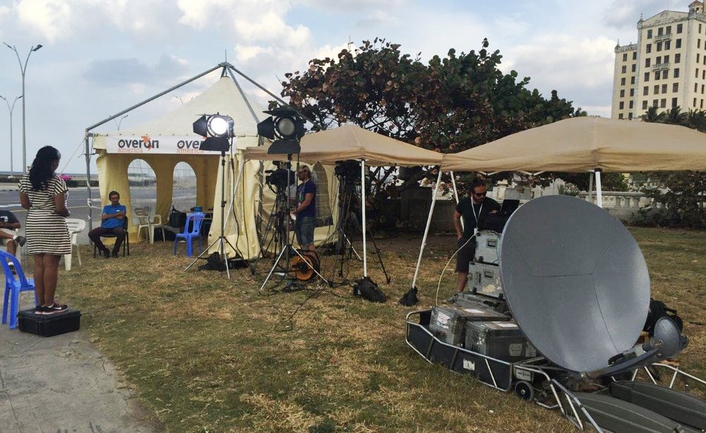 The 25th March, following the US President's visit, saw the Rolling Stones give a free open-air concert in the Ciudad Deportiva Stadium with around 1,200,000 people in attendance. Overon provided coverage of the concert via a fly-aways on a terrace with a view of both the stage and the crowd.
Overon provided more than 80 live link-ups from Cuba with clients including Channel 7 Fox Miami, Univisión, TV Azteca, Chilevisión, Telefé, Canal 13, Telecinco, Cuatro, RTL Belgium, Russia Today, ZDF, Alhurra TV and the news agencies Reuters-Tima and Aldeavisión.