National Theatre Live to broadcast Hangmen in Sony 4K
The production marks the fourth collaboration in the year-long partnership between National Theatre Live, Vue Entertainment and Sony Digital Cinema 4K, which has already seen 4K productions of Behind the Beautiful Forevers, The Beaux Strategem and Hamlet hit the big screen from the stage. The work continues to garner the attention of cinema goers, with world-class theatrical experiences arriving on the big screen in unsurpassed 4K clarity.
Hangmen is the latest production to get the bespoke 4K event cinema treatment from the Wyndhams Theatre. Working closely with its production partners, Sony has employed its versatile technology throughout the established partnership to take plays from different environments, including the Olivier Theatre, The Barbican and the Wyndhams Theatre, to the cinema screen.
Hangmen: shot and screened exclusively for Vue in Sony 4K
Directed by Matthew Dunster, Martin McDonagh's Hangmen sees The Walking Dead's David Morrissey return to the West End. The production marks The National Theatre's first collaboration with the Royal Court, which is celebrating its 60th anniversary this year. The production will capture McDonagh's dark and comic play in 4K detail, bringing clarity to the set as it moves between hard-hitting scenes centred in a pub and a prison.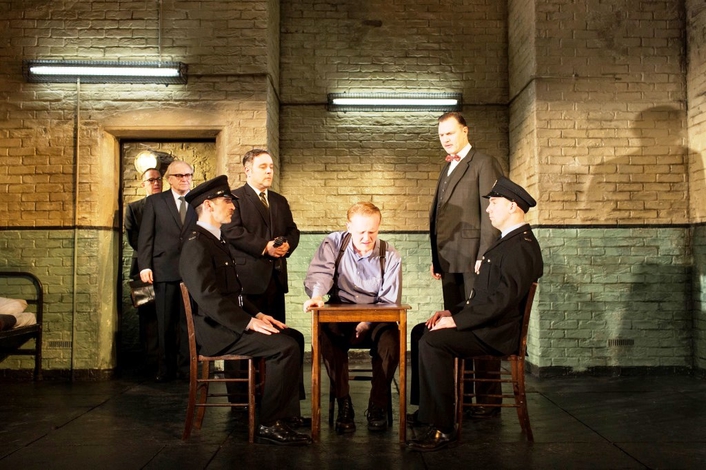 The production will be shot in 4K and delivered for exclusive screenings to Vue customers around the country on Tuesday 22nd March as a 4K DCP (Digital Cinema Package). This will allow audiences to fully appreciate the expanded colour space captured by Sony's PMW-F55 4K camera – giving cinemagoers a life-like experience with richer, more vibrant on-screen tones and textures than conventional HD transmission.
"Hangmen stood out as a great choice for capturing in 4K" notes National Theatre Live Producer, Emma Keith. "We're able to bring more colour and depth to the scenes, with the ability to enhance the storytelling through 4K. The detail with which audiences can see the action is outstanding, and this is set to be another one of a kind production."
4K reveals every detail of world-class drama
Hangmen will be captured using 6 x Sony PMW-F55 cameras. Produced with Soho Digital Cinema, NEP Visions and Presteigne to achieve resolution four times that of Full HD, the immersive clarity and detail of 4K will reveal the subtlest nuance of each performance.
Audiences at Vue Cinemas around the country will exclusively be able to experience the on-stage action in 4K, as if they're right there in the auditorium. Screened with Vue's fleet of Sony Digital Cinema 4K Projectors, these special 4K Encore showings will bring the NT production to life. It's an ideal opportunity for theatre fans to experience the drama at their local cinema and for cinemagoers to enjoy the ultimate theatre seat at the comparably lower cost of a cinema ticket.
"Presented in Sony 4K, this visual production pushes the rapidly-evolving boundaries of event cinema" says David McIntosh, Vice President, Sony Digital Cinema 4K Solutions for Europe and the Americas. "This production is the culmination of a very successful and rewarding first year with National Theatre Live and Vue Entertainment which has bought outstanding theatre to audiences across the country. We're committed to working with partners to pioneer the most impactful experiences for consumers whether that's helping our exhibitors show the latest blockbusters in the best possible quality or changing the game of event cinema. Sony is working from capture right through to delivery in 4K with the productions under the partnership and Hangmen is yet another example of this in practice."
Kevin Styles, Managing Director (UK & Ireland) of Vue Entertainment. "At Vue we place entertainment and digital innovation at the heart of our services and we are proud to bring this exclusive 4K production to our customers. Importantly, those customers who wouldn't normally be able to access such fantastic theatrical productions can now not only enjoy the thrill of live events but can do so in the most technically innovative way in the best seat in the house."