Super Bowl 50 and Its Lasting Legacy
First, of course, there are the whiz-bang technologies. CBS Sports made use of a new Sony 4K camera that can record at eight times speed (coupled with a new Canon UHD lens) and both of those tools seem destined to make big news at NAB and in the marketplace. Then there was the FreeD technology that was the backbone of the EyeVision 360 system. That system's pinpoint accuracy came to light during the end of the game when CBS used it to show that Denver Bronco running back CJ Anderson had broken the plane of the goal line. There's little doubt that a system like that could also be a boon for for official reviews of scoring plays and other crucial down-and-distance plays as well as things like determining ball placement and more.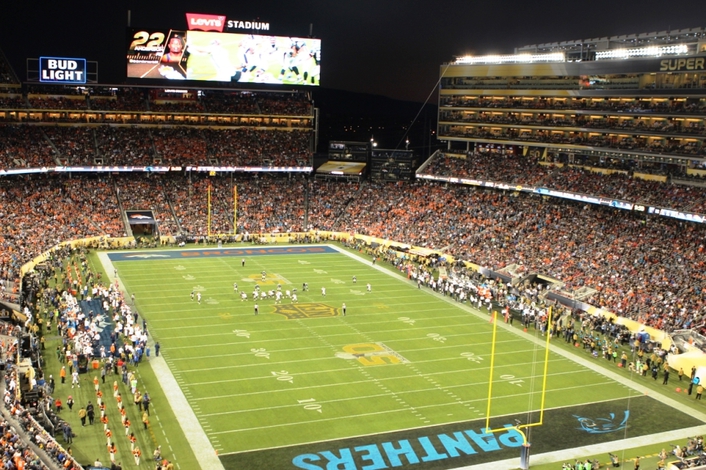 Super Bowl 50 will be remembered for many things, including an incredible amount of technical innovation
And speaking of official reviews, this year's Super Bowl was the first to use the leagues latest instant replay system. And even the fans in the stands benefitted from a first as Imagine's Infocaster digital signage system also made its Super Bowl debut.
There were a number of other first as well that confirm new directions for not only the Super Bowl but all major sports event production. The Filmwerks system that placed the entire compound on battery power performed flawlessly as did NEP's SSCBS mobile production unit, an IP-based production unit that re-confirmed that IP-based production is ready for the big leagues.
And then over in the international compound one could also some firsts: BSkyB worked out of a Game Creek Video unit for the first time; NHK rolled out its latest 8K mobile unit to produce the first Super Bowl in 8K; and the NFL itself went all fiber for signal transport for the first time.
So while Super Bowl 50 most likely capped off the career of one of the game's greatest quarterbacks it opened up a new era. For the first time ever local broadcasters used regular Internet access to deliver post-game reports from the stadium. Super Bowl 50 also laid bare the legitimacy of IP-based backbones within a compound and how Gigabit pipes and circuits can transform the way a remote production compound can be connected to broadcast centers thousands of miles away. The end result, for example, was the ability for NFL Films to send a massive amount of audio and video assets from the Super Bowl compound to its facility in Mt. Laurel, NJ within a couple of hours after the game. The days of shipping film canisters or having to fly back hard drives and disks are officially over when it comes to Super Bowl workflows.
Next year's big game heads to Houston, TX and there will be plenty of firsts there as well. But Super Bowl 50 might very well go in the books as one of the most important single events ever in terms of its lasting impact on the industry.
EVS drives SuperBowl50 broadcast success with Bexel Gamecreekvideo NEPbroadcasting
EVS drives SuperBowl50 broadcast success with Bexel Gamecreekvideo NEPbroadcasting who made magic happen for 112+ mil viewers
When YOU need to see the biggest football game of the year, THEY choose to call RTS!
This isn't just about the perfectly manicured playing field, yard markers, passes, tackles, touchdowns, punts, field goals, blockbuster halftime show or multimillion-dollar TV ads. This is about how all of the above comes into your home or favorite sports viewing establishment seamlessly. Simply put, it all comes together through an incredible amount of products, planning and people with years of experience in live sports broadcast production. A small city of traveling professionals makes it all work and helps bring the Big Game to life beyond the stadium...
NEP supplies the OB trucks, RTS makes the intercom systems
NEP supplied OB trucks for the CBS broadcast of Super Bowl 50 on February 7, 2016. They deployed a total of six trucks for the event, with the following RTS intercom equipment making it possible for all communications to flow smoothly for the telecast.
High-capacity ADAM digital matrix systems
    5 ADAM systems (6 frames)
    1,912 ports: 904 analog, 640 MADI, 256 OMNEO, 112 RVON
    135 trunks
    3,655,744 crosspoints
Riedel technology at the largest Pro Football event in the world with 100+ Artist VoIP connections between various locations in San Francisco
Riedel technology at the largest Pro Football event in the world with 100+ Artist VoIP connections between various locations in San Francisco and a central 1000 port Artist intercom