Sainz holds off car rivals for third Dakar Rally title in Saudi Arabia
Here is all you need to know:

- Sainz had car rivals Nasser Al-Attiyah and Stéphane Peterhansel waiting to pounce on any error during the 374km special stage to the Qiddiya finish from Haradh.

- Qatar's Al-Attiyah won the last stage, however it was not enough to overhaul the 10-minute lead the Spaniard had built up over the previous 11 stages.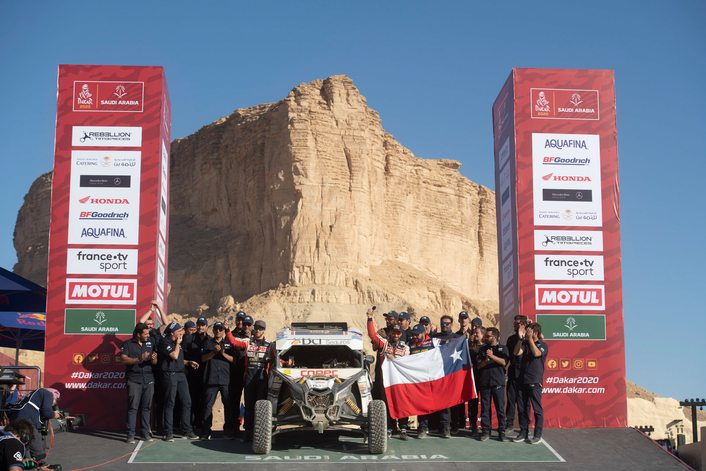 Francisco Chaleco Lopez
- Sainz and navigator Lucas Cruz finished sixth on the day to put them 6m 21s ahead of Toyota driver Al-Attiyah and seal a third Dakar title after Sainz's 2010 and 2018 wins.

- El Matador revealed: "It makes the victory even nicer when the battle is so tough. On top of that I win in a third different car - I'm very proud of that."

- Frenchman Peterhansel could not add to his record 13 Dakar titles, but he did claim a podium behind team-mate Sainz thanks to four stage wins in his MINI Buggy.
Giniel De Villiers
- 2009 winner Giniel de Villiers finished fifth after a solid second week, while Poland's Kuba Przygonski also placed high in the latter stages after a tough first week.

- Chilean quad driver Ignacio Casale also made it three Dakar titles, after he stayed close enough to Frenchman Simon Vitse to finish 18m 24s ahead with Poland's Rafal Sonik third.

- Casale, 32, said: "I'm elated because it was a long, gruelling race. I had some problems during the second week, but we solved them as well as we could. We worked hard all year long with the mechanics and now I can celebrate this win. Thanks a lot and Viva Chile!"
Matthias Walkner
- Russian Andrey Karginov added a second truck triumph to his 2014 title after he won an incredible seven stages to forge a huge 42m 26s victory over compatriot Anton Shibalov.

- Karginov, 43, admitted: "I am happy that we managed to win. In two weeks we covered thousands of difficult kilometres of tough offroad routes."

- Team Kamaz Master colleague Dmitry Sotnikov could not complete a 1-2-3 as Belarusian driver Siarhei Viazovich drove well to seal his second Dakar podium.
Nasser Al-Attiyah
- Defending bike champion Toby Price's rollercoaster race ended with third place behind maiden winner Ricky Brabec as the American held off Chilean Pablo Quintanilla by 16m 26s.

- Price, 32, said: "It's not the result we came for but, with the two weeks we've had, I'm quite happy to keep my podium streak going. I'll be back and looking to get the #1 plate again."

- 2018 champion Matthias Walkner of Austria finished fifth, while Argentine Luciano Benavides produced a career best sixth with Slovakian Stefan Svitko 11th.
Stephane Peterhansel
- Spaniard Laia Sanz rode well again to finish in 18th as the highest female rider with Austrian sporting legend Martin Freinademetz holding on back in 68th.

- Sanz, 34, enthused: "I've started 10 Dakars and I've finished all 10. This is something that is really difficult and it's an achievement I'm very proud of."

- The bike race will be remembered for the fatal stage seven crash suffered by Portuguese rider Paulo Gonçalves, who was a much loved and respected rider within the bivouac.
Carlos Sainz
- Chile's Chaleco Lopez could not defend his SxS title, but he finished strongly to secure third behind maiden American winner Casey Currie with Russian Sergei Kariakin in second.

- Lopez, 44, claimed: "We had a huge problem the day before yesterday, so a podium place isn't that bad after all. The first edition in Saudi Arabia was interesting."

- History was made when Frenchman Cyril Despres – alongside Swiss co-driver Mike Horn - became the first Dakar competitor to win stages in three different categories (bike, car and SxS) with Red Bull Off-Road Team USA debuting their OT3 by Overdrive vehicle.
Laia Sanz
- American Blade Hildebrand finished second on the final stage to wrap up an impressive race that included two stage wins, while fellow Red Bull Off-Road Junior Program member Mitch Guthrie Jr. won three stages to signal a bright future for the talented, young duo.

- Hildebrand declared: "There's still a lot work to go into this program to get it to where we want it to be, but there were lots of positive steps at this Dakar."
Top three overall results in each category

Car
1. Carlos Sainz (ESP)/Lucas Cruz (ESP) MINI Buggy 42h59m17s
2. Nasser Al-Attiyah (QAT)/Mathieu Baumel (FRA) Toyota +6m21s
3. Stéphane Peterhansel (FRA)/Paulo Fiuza (PRT) MINI Buggy +9m58s

Bike
1. Ricky Brabec (USA) Honda 40h02m36s
2. Pablo Quintanilla (CHI) Husqvarna +16m26s
3. Toby Price (AUS) KTM +24m06s

Truck
1. Andrey Karginov (RUS) Kamaz 46h33m36s
2. Anton Shibalov (RUS) Kamaz +42m26s
3. Siarhei Viazovich (BLR) Maz +02h04m42s

Side-by-side
1. Casey Currie (USA)/Sean Berriman (USA) Can-Am 53h25m52s
2. Sergei Kariakin (RUS)/Anton Vlasiuk (RUS) Can-Am +39m12s
3. Chaleco Lopez (CHI)/Juan Pablo Latrach Vinagre (CHI) Can-Am +52m36s

Quad
1. Ignacio Casale (CHI) Yamaha 52h04m39s
2. Simon Vitse (FRA) Yamaha +18m24s
3. Rafal Sonik (POL) Yamaha +01h04m15s