Action Shots with IntelliJib
Polecam were approached 2 years ago by Jamie Oakford ‐ a BT/World Cup Director, regarding the feasibility of using a Polecam system with a hi‐speed camera behind the goal for Premier League Football. It started with a standard Polecam system with either 2 or 3 carbon fibre boom sections fitted with the narrow pan and tilt remote head, complimented by Antelope Camera System "Pico" hi‐speed camera. This configuration enabled the hi‐speed camera to be positioned and controlled very accurately directly through the goal netting, giving broadcasters, spectators and watching audiences alike, a first perspective of all the action. Despite the immediate success, there were many grounds where there was physically no space available for the standard Polecam system and the operator behind the goal.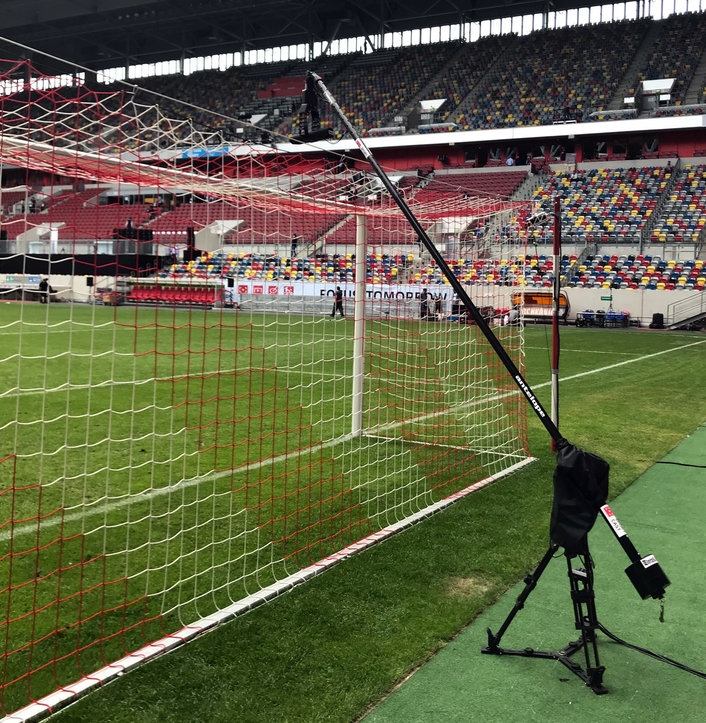 So, with a rapid solution needed for immediate implementation, a unique mini‐Polecam boom and remote head system, operated remotely from a bespoke twin joystick panel via standard fibre connections was created. The IntelliJib, which can be remotely controlled from an OB truck or the pitch side camera pit, was born and 'through‐net‐technology' (TNT) cameras have become the adopted standard for the higher profile games for Premier League, FA Cup, Champions League, CONCACAF Champions League, A‐League Australia – with many more sporting applications for the future.
Proven technology in the Premier League and FA Cup
Independent and Simultaneous control of the Boom and Head with 360° rotation (12 and 3 seconds respectively)
Universal Control Surface with bespoke twin joystick system (1x auxiliary)
OB compatible with RS232 and RS485 Data, with the Polecam SMPTE fibre option available too
Boom length up to 3m with Remote and Local control
Universal platform with 1.2kg payload for 4K & HD mini‐cameras such as Antelope, CIS, Toshiba, Panasonic & Marshall
Live Motion Concept: Felix Marggraff – TV Director: The IntelliJib is a wonderful tool to create new angles being almost invisible. No need for chunky cranes or heavy installations. Also because it's so light and simple the option to move the IntelliJib from one position to another during a live event opens up so many possibilities to use it on sports like Golf or Athletics and many more. It's really precise and the combination to use it with an Antelope PICO Ultra Slow Motion thrills me as a slomo from a flying camera is still the icing on the cake.
Antelope Camera Systems: Gert Kappes –CEO: I was really impressed by IntelliJib. The system delivers great moves and viewing angles. Especially the small footprint is genius to use it in any critical space situation. Fast and precise enough to shoot stunning slow motion clips with our Antelope Pico camera. The IntelliJib combined with our mini cameras, gives the user thousands of new viewing angles and possibilities. Many thanks for designing a tool like this.
Polecam Limited was founded in 1998 by Steffan Hewitt, BSc(hons) Metallurgy & Material Science. Polecam is the recognised world leader in lightweight carbon fibre based camera platforms and remote systems for use in the broadcast, film, tv, industrial and medical sectors. Continuing to successfully design and manufacture unique systems from its global headquarters based in the United Kingdom and is supported by an extensive network of global partners providing local sales, service and support. Polecam is Designed to Perform, Engineered to Perfection