Ricky Martin Lives La Vida For Autism Rocks
Commissioned by AEG Live production manager Allen Spriggs, working in partnership with 117 Live operations manager Malcolm Giles, Entec was brought in to supply the bulk of the production for the two shows around which the 'Livin' La Vida Loca' star's One World tour was planned – a punishing schedule covering Americas, Australasia, the Middle East and continental Europe.
"There was an exceptionally high demand for the Friday [September 23rd] show and tickets were selling like hot cakes for the extra date that we added on the Thursday," claimed Spriggs. "Ricky's show design is quite sophisticated and very well rehearsed, so we needed all of Wednesday to load-in and have everything in place, as well as reserve time for a Facebook video to be filmed for a new single ['Vente Pa' Ca' with Maluma]."
The latest Autism Rocks concerts in London saw Entec's team make a significant contribution alongside staging provider All Access, Transition Video, caterers Eat To The Beat, R. Jameson Event Transport and Ricky Martin's own touring crew, headed by production manager Rodney Johnson.
THE VISUAL EFFECT
From the outset, Martin's high-energy show was a genuine visual feast with lighting and video transforming the art deco auditorium into a vibrant atmosphere of celebration.
 
Lighting director Federico Lafuente, a.k.a. 'Churry', ran his side of the production from an MA Lighting grandMA2 full-size console, along with a 'light' version for back-up.
LD Churry
For the two Apollo dates, Churry benefitted from the tried and tested skills of Entec lighting crew chief Will Wright and his colleagues Simon Chandler-Honnor, Simon 'Boff' Howarth and Sudip Shrestha. Said Wright: "This isn't a particularly conventional design because there's no front truss and very little in the way of hanging key light. It's all about pods of lighting that evolved to work alongside video cubes, with a back wall of beams to reinforce the video."
Along each side of the performance area was a line of Philips Vari*Lite VL3500 Wash fixtures fitted with PC lenses to partially compensate for the absence of front light whilst giving traditional side light for the dancers and musicians. For pick-ups, there were two Robert Juliat Victor followspots stationed in the classic Apollo positions, enabling relatively close-range beams.
Some of Entec's most popular fixtures, such as Martin MAC Aura XB LED washes, were deployed for these Autism Rocks shows. While Clay Paky Alpha Spot QWO 800s were hung from the bottom of the afore-mentioned pods, the brand's Sharpy moving beams were positioned along the hand rails of the riser, either side of the platform on which Martin first appeared following a Kabuki reveal.
Sudip Shrestha, Simon Howarth, Will Wright
As Wright explained, some additional hardware was requested in advance of the second performance. "Adam Stevenson [Entec's assistant lighting manager] brought down 12 Sunstrip Active DMX stage blinders to be placed at the front of the stage after it was realised that the dancers needed extra light for their downstage solo moments. They really kick out the brightness when used at full intensity, so they were just brought in and out sparingly for some nice tungsten effects, in contrast to the white light that often bathed Ricky.
"Added brightness came from around 16 2-lite Moles – discreetly nestled in between the QWOs – that Churry wanted for stabs and audience pick-ups."
Other items featured within Entec's lighting package included a bank of Martin Atomic 3000 strobes, the afore-mentioned Kabuki and a pair of outdoor domes, each used with a VL3000 to facilitate the event's external branding projection.
APOLLO SONICS
One of the industry's most respected front-of-house sound engineers, Tony Blanc has an enviable career history that dates back to the late '70s and has been linked with some of music's biggest names, from Bon Jovi, Sting and Black Sabbath to Steve Winwood, Christina Aguilera and Luther Vandross. The resident FOH mixer on Ricky Martin's One World tour, Blanc has been enhancing his reputation as a fully hands-on engineer and he personally specified all of the control equipment, radio systems, microphones and 'specials' for the Apollo shows, mindful of the fact that he would be feeding the venue's own L'Acoustics K2 system.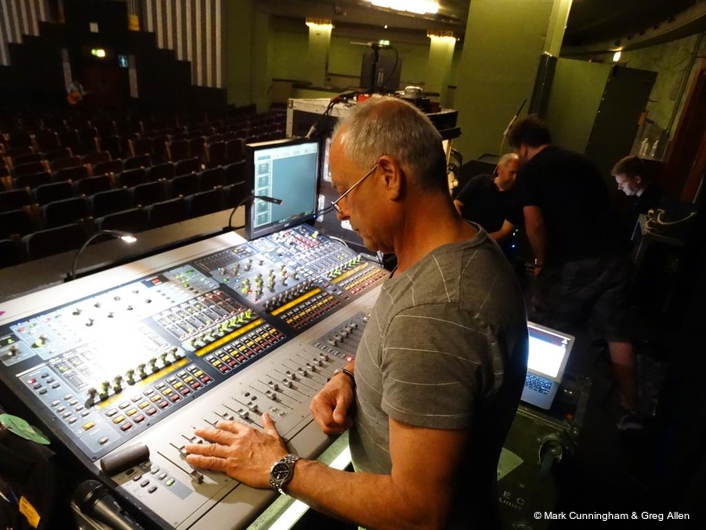 Tony Blanc FOH
The Avid Venue Profile has been Blanc's choice of console throughout the One World tour. "It's a familiar surface to Tony and one that allows him to run his choice of plug-ins natively," said Blanc's 'FOH butler', Entec crew member Rik Hart. "He just turns up for work each day with his show file and licences on a memory key, and he's away. Ricky's crew have been picking up production locally everywhere on this tour and the Profile is a good example of an item that can be found in pretty much all territories, certainly within Entec's inventory."
A full-on Latin dance music show, with the drums, sundry percussion and brass alone, the almost relentless onstage action was reflected in an input count of around 90 channels. "From a mix perspective, it's a show that majors on the big and loud, but occasionally calms down for some tender ballad moments, giving the crowd room to breathe," Hart observed. "And then, bang… another explosive number comes to slap you in the face! It's a party crowd and they're getting exactly what they want."
STAGE VIBRATIONS
Monitor engineer Joe Lizano originally had the opportunity to join the Ricky Martin crew in 1999 but had to turn it down due to other commitments. "I'm very happy to be here now though," he smiled. "I came in to cover for Steve May who isn't returning, so I'll be here until the end of the year."
Joe Lizano and Sam King
For his completely in-ear stage mix, Lizano secured a "beautiful" DiGiCo SD7 board from Entec's stock to take charge of 81 inputs and 26 stereo/16 mono outputs. "Although we have some stacked d&b V8/V-Sub side fills to provide additional support for the dancers, it's otherwise a 'clean' stage. Even the backline amps are out of view and that's a good thing because it gets pretty busy up here!"
Martin's drummer received 14 stems from the SD7 – ranging from direct outputs and a stereo drum mix to loop stems, BVs, Martin's vocal and a click track – that he manipulated to his preference on his own local mixer, straight to his in-ears.
Rik Hart and Tom Olorenshaw
"Ricky has a full band mix but the most important part for him other than his vocal is the audience, so I make sure that he hears that presence in his ears all night. A big part of my job is to ride the crowd response throughout the show. If Ricky's asking the audience to sing along to one of the songs, I'll bump them up in the mix so he's really feeling that connection. Sometimes, the toughest challenge for me is to keep it dry and detailed for him, and it's mostly dependent on the acoustic character of the room."
Background vocals and album production elements that defined some songs but were difficult to reproduce live were fed into the mix via Pro Tools engineer José Merconchini. "You want to get that right every time so that's the way we handle it," commented Lizano. "It all runs to the show's universal time code that is shared by video and lighting, and knits everything and everyone together."
Rik Hart was part of an Entec sound crew led by James 'Kedge' Kerridge, which also numbered patch technician Tom Olorenshaw and Sam King, the latter taking charge of the sizeable RF challenge with his crucial tools, Shure's Wireless Workbench 6 and Axient spectrum manager.
Said King: "I am managing 46 individual frequencies – 20 channels are assigned to the Sennheiser in-ear monitoring and 26 to the Shure UHF-R for vocal microphones and wireless guitar packs, although Ricky's personal mic choice is a Sennheiser SKM 5200 handheld with a Neumann capsule. Yes, it's quite a consuming task but we've got it running smoothly."
Back at Entec's Northolt warehouse after the midnight curfew, the company's head of sound, Jonny Clark, reflected on another successful Autism Rocks project. "I know I speak for all our team when I say how much we appreciate Allen Spriggs asking Entec to continue this valued relationship. Receiving positive comments about our work from Allen Ricky's PM Rodney Johnson and the Apollo's technical manager Alistair Parley was very gratifying, and we look forward to assisting with more events down the line."
Martin's tour concludes in Mexico on December 7. Meanwhile, the Eventim Apollo Hammersmith will host its next Autism Rocks Sessions on December 23, headlined by Chic legend Nile Rodgers and, once again, Entec will be proud to support this extremely worthy cause.