Genelec Smart Active Monitors Employed for 7.1.4 Immersive Setup at Green Street Studios in Sherman Oaks, CA
"Green Street Studios has expanded to a full service audio production facility," says King, who has worked on over 150 video games, as well as trailers for films including Watchmen, We Are Marshall and Clash of the Titans. "We have provided audio content for game developers, record companies, ad agencies, corporate kiosks, internet web development, television, marketing firms, and multimedia developers. We have all the latest in high-definition digital recording and editing equipment, as well as a huge vintage mic collection."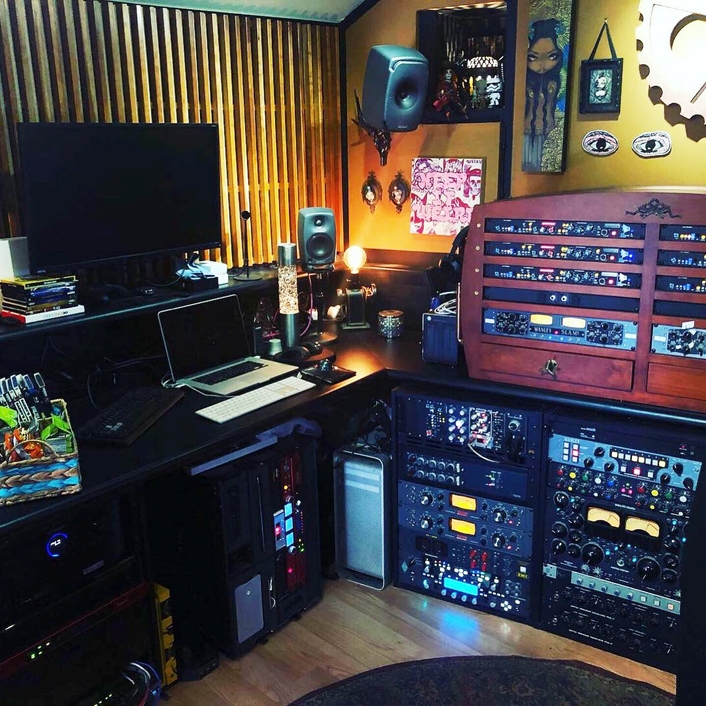 Rear channel setup of the Green Street Studios immersive 7.1.4. Genelec configuration
Anticipating the growing acceptance of immersive-sound projects for games, film and television, King spent much of the last two years auditioning speakers for the 7.1.4 array he knew would become the standard in the emerging immersive media environment. "I had already seen game development and film move in that direction, and I knew it was a matter a time before formats like Dolby Atmos would become standard," he recalls. "Now, all the AAA-level games, like Shadow of Tomb Raider that we recently completed, are being done in Atmos." King, who had already been closely familiar with Genelec, as he'd previously owned a pair of 8020As with a 7350 subwoofer, decided to upgrade his setup and acquired a pair of Genelec 8351A Smart Active Monitors. "Even as I continued testing speakers, I could not get the sound of those Genelecs out of my mind," he says.
Overhead setup of the Green Street Studios immersive 7.1.4. Genelec configuration
Those two speakers would ultimately become the foundation for Green Street Studios' new monitoring array, joining one Genelec 8341A Smart Active Monitor for center channel and four Genelec 8331A Smart Active Monitors for side and rear surrounds, four 8320A Smart Active Monitors for overhead speakers, and a 7380A Smart Active Subwoofer. "Because of the physical dimensions of the studio, the biggest challenge of the Atmos setup was getting it right in my small space. The Genelec sound is great, but I'm equally impressed with the ability to pick out detail in them, which is important for games but also for music and ADR," he explains.
Control setup at Green Street Studios, featuring an immersive 7.1.4 monitoring array comprising Genelec Smart Active Monitors
Beyond their sonic advantage, however, King says Genelec technology makes a huge difference. "The GLM software is ingenious and it works great," he says. "The speakers are now perfectly matched to the room, and I've also set up presets for 7.1.4, 5.1 and stereo configurations, so I can move between projects at the press of a button. The future, in the form of immersive sound formats, is not just coming – it's here. And with Genelec I have the speakers that I need to feel ready for it."
Control setup at Green Street Studios, featuring an immersive 7.1.4 monitoring array comprising Genelec Smart Active Monitors
Genelec, the pioneer in Active Monitoring technology, is celebrating over 40 years of designing and manufacturing active loudspeakers for true and accurate sound reproduction. Genelec is credited with promoting the concept of active transducer technology. Since its inception in 1978, Genelec has concentrated its efforts and resources into creating active monitors with unparalleled sonic integrity. The result is an active speaker system that has earned global acclaim for its accurate imaging, extremely high acoustic output from small enclosures, true high-fidelity with low distortion, and deep, rich bass.
Genelec is also celebrating over 10 years of its Smart Active Monitoring™ technology, which allows studio monitors to be networked, configured and calibrated for the user's specific acoustic environment. Each Smart Active Monitor or subwoofer is equipped with advanced internal DSP circuitry, which tightly integrates with the GLM (Genelec Loudspeaker Manager) software application, running on Mac or PC. GLM's reference microphone kit allows the user's acoustic environment to be analyzed, after which GLM's AutoCal feature optimizes each Smart Active Monitor for level, distance delay, subwoofer crossover phase and room response equalization, with the option of further fine tuning by the user. By minimizing the room's influence on the sound, Smart Active Monitors deliver an unrivalled reference, with excellent translation between rooms.