Antenna Hungaria uses Lawo equipment for live broadcast production
After the refurbishment of existing OB Vans and several complete new builds, the Antenna trucks are extensively equipped with audio consoles and additional equipment from German broadcast technology specialist, Lawo. The most recent delivery included three 48-fader mc²56 audio consoles and four mc²36 consoles, three with 16-fader configurations and one with 40 faders – bringing the broadcaster's complement to five mc²36 and three mc²56 consoles currently in use. The contract also included Lawo Commentary Units (LCUs), Compact I/Os, V__pro8s, Nova73 audio routers, DALLIS stageboxes, and A__madi4. All of the Antenna's OB Vans rely on Lawo's VSM Broadcast Control and Monitoring System for unified control.
Lawo mc²56s
One of the largest sporting events in the world in terms of participation and global exposure, the 2017 FINA World Championships is also the largest sporting showcase Hungary has hosted to date. With almost 3,000 athletes representing six disciplines and competing in 75 events over a period of 17 days, the championships present a renewed challenge to its organizers since the preparation period was reduced to four years.
The competitions will take place in five iconic venues, adding their own sparkle to each event. Swimming and diving are being held in a new state-of-the art complex in Budapest. The Dagály Swimming Complex will be the principal venue of the 2017 FINA World Championships – its construction is already considered an outstanding achievement, as was completed in a record-breaking period of two years.
Water polo will entertain the crowds in the Alfréd Hajós National Swimming Stadium (named after Hungary's first Olympic Games gold medal winner), while temporary facilities welcome the world's best synchronized swimmers at the outdoor ice rink next to Heroes Square and Vajdahunyad Castle. High divers are competing alongside the river Danube, under Castle Hill, opposite the magnificent Parliament building. Open water swimming is taking place near Lake Balaton, in the city of Balatonfüred.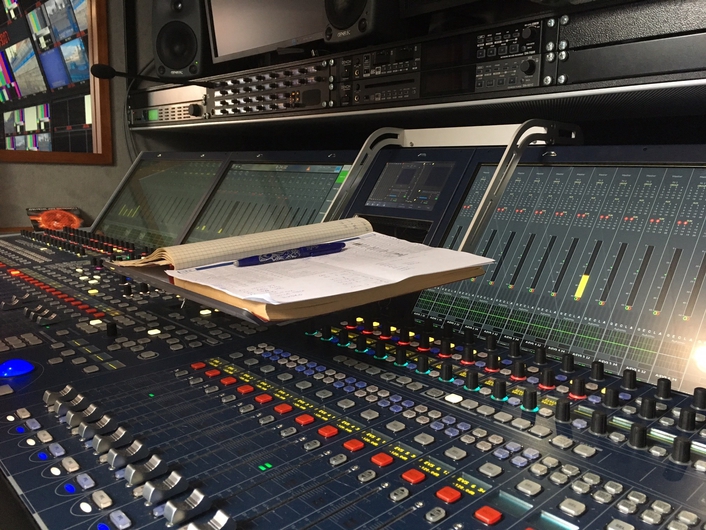 Lawo mc²56s
At the forefront of the action at the World Championships, the most recent addition to the Antenna OB fleet is equipped with 16 cameras but can be extended to 20, and houses a Lawo mc²56 audio console with three DSP cards and 18 MADI ports. It uses RAVENNA to integrate the whole audio system into an IP network, giving extensive freedom when long distances are involved. This truck is also being used for the host broadcast of the FINA World Championships.
Lawo mc²56
"We work with Lawo equipment because of its reliability and flexibility, as well as the great system integration possibilities of Lawo products," says Zoltan Tihanyi, Senior Audio Manager with Antenna Hungaría, on the choice of the equipment. "We also chose Lawo because of its easy operation mode – running VSM and Lawo audio equipment in our OB Vans we only have to teach one system to our operators and they can work on the whole fleet. We use Lawo consoles for several types of job, like entertainment shows, sport broadcasts, musicals, theater shows, and multitrack recordings.
"The things I like most on the consoles are their sound and the ease to working with them. Additionally, we can integrate the Lawo workflow in our normal daily work to reduce setup time."
As part of commissioning the new Lawo equipment, Antenna Hungaría has benefitted from the latest functionalities of the V__pro8s video processing toolkit: "We started to work with Lawo when the V__pro8 was launched to the market,' Tihanyi recalls, "and using the V__pro8 gives us much deeper system integration than we had previously. We use the V__pro8 for several purposes like embedding, de-embedding, cross-converting, plus Dolby E management is done exclusively on V__pro8."
About Lawo
Lawo designs and manufactures pioneering network, control, audio and video technology for broadcast and post production, as well as live performance and theatrical applications. Products include control and monitoring systems, digital audio mixing consoles, routers, video processing tools as well as solutions for IP-based A/V infrastructures and routing systems. All products are developed in Germany and manufactured according to highest quality standards at the company's headquarters in the Rhine valley town of Rastatt, Germany.