Panasonic & Zero Density Launch a Cost Effective Virtual Studio Production Solution For TV Stations
Regional Belgium tv station Notélé, which provides French language content to its 300,000 audience, is the first to implement the combined solution. A Notélé spokesperson said: "Quality is our main ambition, which is why we are using this equipment. The bundled system is a good choice for a TV station like ours because the tracking system with the FreeD protocol is integrated into the camera, so it is a cost-effective solution, without the need for a separate tracking system. For local tv channels I advise investing in this system as soon as possible. Compared to other systems, this solution has a good payback on quality and price and is very easy to implement."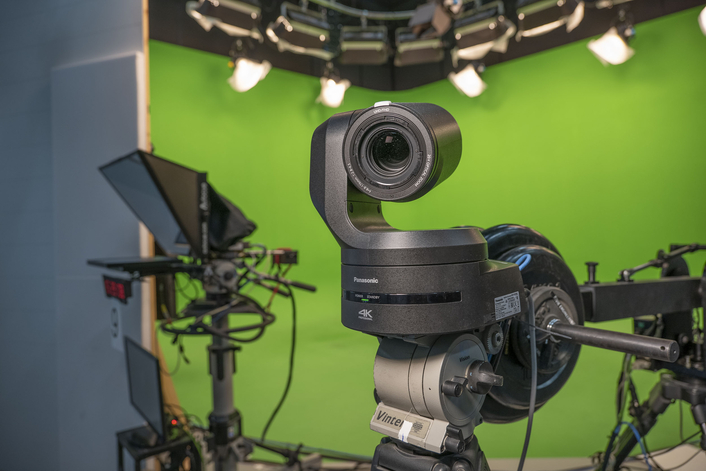 The AW-UE150 is the first PTZ on the market to provide Position Data Notification (PTZF). Thanks to the adoption of the FreeD protocol, the AW-UE150 is compatible with Virtual Studio and Augmented Reality applications. Using this feature, the AW-UE150 provides real-time positioning to the virtual Reality Engine™ from Zero Density. The camera is then "tracked" and the FreeD data is sent over serial or IP links.
Jaume Miró, European Sales Engineer at Panasonic Broadcast & ProAV, said: "As the industry leader in the broadcast PTZ camera market, Panasonic is the first to make its latest compact, all-in-one PTZ camera compatible with the FreeD protocol standard. Using our 4K, high quality AW-UE150 with the Zero Density Reality Engine helps democratize this cutting-edge virtual technology without having to compromise on quality. It is another demonstration of the Panasonic PTZ camera ranges ability to easily integrate even the most complex production workflows."
Ulaş Kaçmaz, Vice President of Sales & Marketing at Zero Density, said: "As an expert in real-time virtual studio production solutions, Zero Density aims to break the mold of the industry with each release, product and partnership. Panasonic is a long-established authority in the media and entertainment arena. With the AW-UE150's adaptation to Reality Engine a brave new world has opened up for small to medium size TV stations, as well as for other big players, to leverage the latest virtual production technology."
About Zero Density
Zero Density is an international technology company dedicated to developing creative products for the industries such as broadcasting, augmented reality, live events and e-sports. Zero Density offers the next level of virtual production with real time visual effects. It provides Unreal Engine native platform, "Reality EngineTM", with advanced real-time compositing tools and its proprietary keying technology, Reality KeyerTM. Reality Virtual Studio is the most photo-realistic real-time 3D Virtual Studio and Augmented Reality platform in the industry.
About Panasonic System Communications Company Europe (PSCEU)
Our quest is to make technology work invisibly together and free businesses to succeed. We believe technology
should just work. That businesses will succeed if they can simply focus on their customers, in the knowledge that all
the technologies delivering their capabilities work together. That is why we are dedicated to developing products and
solutions that are so integrated with our customer's way of working, that they are almost invisible – the workhorse in
the background that powers business success.