NEP Switzerland selects EVS technology to drive HD & UHD workflow in new broadcast center
NEP also provides MySports with operational services for the new broadcast center, which includes two studios, three control rooms (one dedicated to the production of highlights from the games being broadcast), post-production and playout facilities. The workflow that has been integrated needed to be as fast and flexible as possible, because of the range of content being produced and since the Swiss channel is broadcast in three languages – German, French and Italian.
MySports broadcasts live games of the National, Swiss and MySports ice hockey leagues as well as the men's national team, the Swedish Hockey League and the Russian Kontinental League. The new sports channel also broadcasts live action from the German Bundesliga, the Portuguese Primeira Liga, the Swiss Handball League, Formula E auto racing and beach volleyball. Alongside the live games, MySports also offers in-house half-time and post-game shows, magazine programs and highlights packages. Overall the channel will broadcast over 20 events - the production for two of which will be in UHD-4K.
The EVS-driven workflow
To achieve this, NEP Switzerland has chosen the XT4K and XS4K servers to act as the ingest and production backbone of the broadcast center's workflow. These enable the production crew to record multiple feeds at once – in UHD-4K, HD or Full HD 1080p – and will be connected, alongside other workflow components through a 10 Gigabit IP network infrastructure.
The broadcast center's overall workflow connectivity is currently based on 3G-SDI, but with the XT4K and XS4K's built-in flexibility, NEP can update the EVS servers to IP I/O with the upcoming native support of SMPTE 2110 before the end of 2017.
"We chose to install the XT4K and XS4K servers because of their built-in flexibility, performance and reliability. With support for Full HD and UHD-4K, this EVS solution lets us easily meet current and any future requirements of the MySports channels," said Trond Hermansen, NEP Switzerland's CTO and project manager of the new broadcast center. "The interoperability between EVS technology and other solutions within our workflow is also a very important part of this workflow – we need to make sure anything installed will be tightly integrated with NEP Media Services' Mediabank platform."
All ingested feeds are streamed as XAVC-Intra growing files to NEP's shared storage using EVS' IPDirector production asset management (PAM) system and the XTAccess transfer engines. IPDirector also enables the production team to control NEP's video router through Lawo's VSM.

In the control rooms, LSM operators use the LSM remote control panel to produce clips and create engaging slow-motion replays and highlights, which can be played out during studio analysis within half-time or post-game shows. Operators are also able to take advantage of content playlist creation and management using the LSM Connect interface.
All ingested content is available for browsing in the IPDirector database, while advanced editing is done using several Adobe Premiere Pro CC workstations with EVS' IPLink plug-in for Adobe. With this, editors can access all content managed by IPDirector, including live growing files. The plug-in enables fast turnaround editing with extensive metadata search and its Exporter panel simplifies export to NEP's Mediabank archive and to the EVS servers for use in the studio, online distribution and transmission.
ENG material can also be ingested into the system using the EVS Ingest Funnel Lite software application, where it can be managed by IPDirector. Ingest Funnel allows for fast ingest of content regardless of file format, codec or associated metadata.

"To build this kind of state of the art broadcast center for MySports, we needed to select the best in broadcast and IT technology from suppliers that we trust. EVS is one of the technology providers we know will always deliver solutions that create a fast and reliable live production workflow," said Reto Osterwalder, CEO of NEP Switzerland.
"The technology installation for the roll out of a new channel is always an important project to undertake, making sure workflows are protected for the future," added Benoit Quirynen, SVP Market & Product. "With this new broadcast center we are proud to have delivered a powerful solution which will last, no matter what technology is put in place further down the line."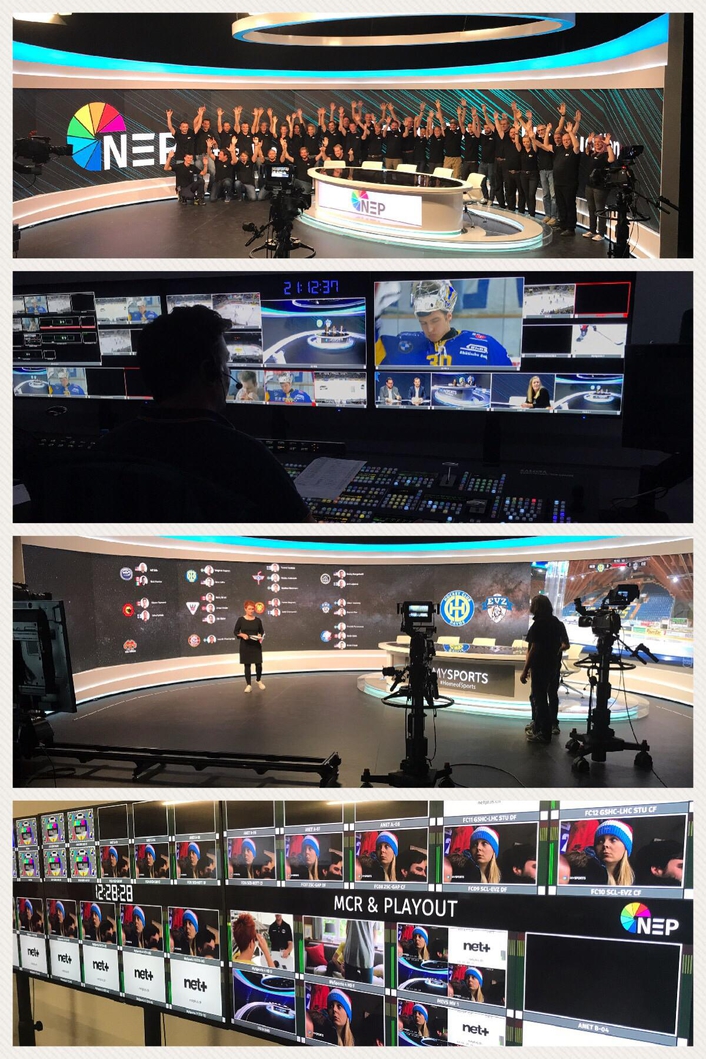 About EVS
EVS is globally recognized as the technology leader for live video production. The company introduced Live Slow Motion replay in 1994, and has continued to build on its reputation for quality and reliability with solutions that enhance live sports, entertainment and news content. Innovations – such as the C-Cast multimedia platform and DYVI software-defined switcher – are raising the bar for live production enrichment, management and distribution. Broadcasters, rights owners, producers and venues alike use EVS to maximize the value of their productions and increase revenue streams.

The company is headquartered in Belgium with offices in Europe, the Middle East, Asia and North America, and provides sales and technical support to more than 100 countries.