Broadcast Solutions looks back on successful Broadcast Innovation Day 2019 in Bingen, Germany
Stefan Breder, CEO at Broadcast Solutions GmbH, comments on the event: "We invented the Broadcast Innovation Days as a series of events years ago, and they have increasingly developed into a meeting place for the international broadcast industry. This year's edition has been the highlight so far. As an international company, it is extremely important for us to show our innovation leadership and attract international visitors to Bingen. The compact size and the direct contact to and between the visitors make up the charm of the Broadcast Innovation Day. Nowhere else in Europe can you see so many broadcast projects under construction or completed in one place. With discussions and personal conversations going along the Broadcast Innovation Day we offer knowledge transfer for the industry – a further important aspect that we want to promote with the event series. The enormous response shows that we are on the right track with this approach."
The one-day free event provided visitors with demos, lectures, panel discussions and an exhibition to learn about new products and future technologies in broadcasting. Promoting the slogan "Explore the trail", the event focused not only on presenting current projects - more than ten OB Vans under construction were on display in the Broadcast Solutions workshop. The exchange of experience within the industry was and is just as important to the organiser. The Broadcast Solutions' experts provided information on new approaches and innovations recurring to projects the company has been working on all around the world. Part of the event was also an exhibition area with over 35 manufacturers presenting their products and solutions.
A further highlight, as at previous Broadcast Innovation Days, were the panel discussions in which producers, manufacturers and system integrators discussed current trends in the broadcast industry. Topics such as SMPTE 2110 standardisation, the advantages of remote production or whether software will replace hardware in the TV industry were matters raised on stage.
At a joint dinner, the visitors closed the day exchanging opinions and networking. With the Broadcast Innovation Day 2019 Broadcast Solutions set a striking highlight of the event series. Already 16 editions of the Broadcast Innovation Days took place all over the world and attracted over 1,800 visitors.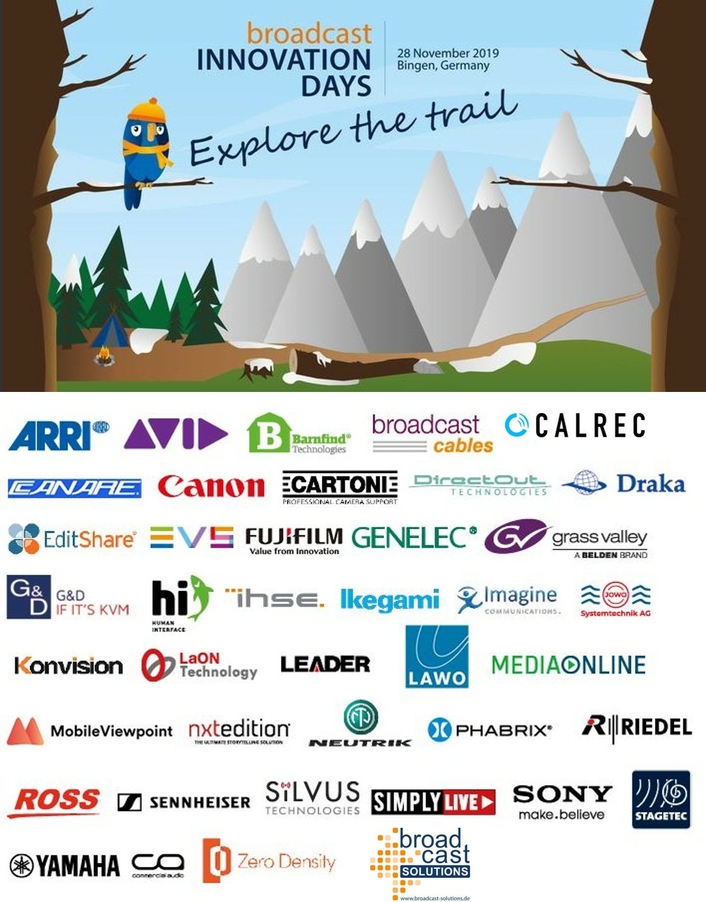 All panel discussions of the 2019 edition will be available on Broadcast Solution's YouTube channel at https://www.youtube.com/c/BroadcastSolutionsGroup