TV SKYLINE provides OB services for groundbreaking Ring Cycle broadcasts
One hundred and thirty-three years since the controversial composer passed away, his music continues to be performed and celebrated at the annual Bayreuth Festival in Germany. The Wagner family itself is integral to the running of the festival; an acclaimed operatic director in her own right, Richard's great-granddaughter Katharina also serves as festival co-director.
Inside OB8 during this year's groundbreaking Bayreuth broadcasts
Live and delayed broadcasts have been an integral part of festival activities for many years, but this year the Wagner family – in conjunction with Sky and OB services provider TV SKYLINE – decided to raise the bar somewhat and arrange the live HD/5.1 broadcast of the four Ring operas, as well as the separate, three-act composition Parsifal.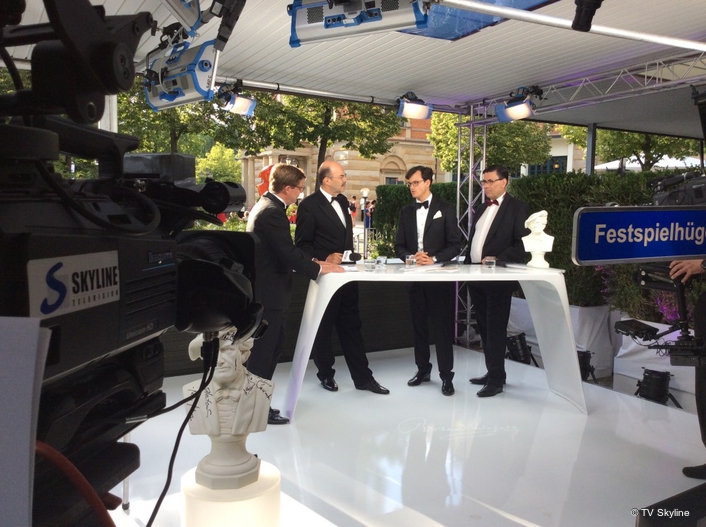 "This was something that no one had tried to do before; or, I might say, been so silly to try to do before," laughs TV SKYLINE's managing director, Robert Kis, when David Davies catches up with him at IBC 2016. "Given that we [were also involved in preparations and] rehearsals over a period of six weeks, it meant that I saw about 25 performances… Well, after 25 Wagner operas you are maybe looking for a little Mozart or…"
"Something a bit less intense?" suggests David Davies.
"Exactly!"
In fact, the coverage was even more extensive than one might first expect, with TV SKYLINE providing OB services to cover 16 hours' main rehearsal of Der Ring – and then 16 hours' live performance of the same cycle – as well as 4.5 hours' rehearsal and an equal amount of live performance of Parsifal. There was a total of nine hours of unilateral production.
Whilst Parsifal was viewable live in more than 100 cinemas across Germany – as well as being recorded for subsequent broadcast by NHK Japan and BR/3Sat – Der Ring was viewable live on Sky Arts in Germany, as well as being broadcast subsequently by Sky Arts channels in Austria, Italy, UK and Ireland.
Invisible touch
Kis notes that TV SKYLINE worked out of its (UHD-capable) OB8 truck and that the camera configuration was based around Ikegami HDK-97A and LDX C-80 compacts with GENTLE:MOTE remote-heads. A number of TV Skyline's own QUBE:CAM and QUBE-CAM II remote cameras were also deployed as part of a production that aimed to be as "invisible" as possible. In total, 12 cameras were used for the host production, while an additional five were provided for the unilateral coverage.
"Every position features a special mount made by TV SKYLINE and all cameras are remote-driven," says Kis. "It must be an invisible production so that the audience members are not affected by camera operators moving about."
ChyronHego (three GFX systems for German/English/Italian subtitles, credits and Sky Arts break coverage) and Rem were responsible for the graphics, while TMT oversaw fibe transmission for the broadcasts. Long-serving Bayreuth sound mixer Peter Hecker again oversaw the audio, with Kis remarking that "the audio production aimed to come as near as possible to the exceptional sound that the audience enjoys inside the Festspielhaus [opera house]. To achieve this special sound there were two recording producers, a wireless engineer, a wireless assistant, an audio engineer, a communications engineer and audio technicians involved [in the production]."
The broadcasts proceeded smoothly, and Kis reports a "very enthusiastic" reception from Katharina Wagner, who it is clear takes a close interest in every aspect of the production. "She is often to be found in the OB van's audio area checking to see if her expectations of the sound are being met," he notes.
Given this close collaboration, it is no surprise to discover that TV SKYLINE is constantly in "a constructive dialogue with Katharina about the possibilities of the OB production, to find a way to bring the most [out] of the operas on screen without disturbing the actors or the Festspielhaus. She is involved in all production matters, the [schedules], and the look and feel of the broadcasts."
And if all goes well, 2017 will see the team take Bayreuth broadcasts to another level once again. "Our aim next year is to do a 4K production," says Kis, for whom it is clear the festival is an annual highlight of TV SKYLINE's busy year. "It's not like football where you are in and out, then onto the next job. With [Bayreuth] you have to go deeply into it; it really is something special, and the whole atmosphere around the festival is extraordinary."
On the subject of UHD, Kis confirms that a third 4K-capable vehicle is currently consideration and that "you will see a new van on the road from TV SKYLINE in 2017."
Parsival LIVE 25.07.2016
Rheingold LIVE 26.07.2016
Rheingold LIVE 26.07.2016
Walküre LIVE 27.07. 2016
Siegfried LIVE 29.07.2016
Götterdämmerung LIVE 31.07.2016
Götterdämmerung LIVE 31.07.2016