Creating a new hub for house music fans
"For many DJs, lockdown really opened up the potential for livestreaming, which many of us hadn't really considered from a video perspective," explains Mijk van Dijk who forms the collaboration with Carsten Binkow. "We were all greatly missing that interaction you get at club nights, and whilst many of us already had audio streaming channels set up, adding the video element to our streams helped to bridge that gap."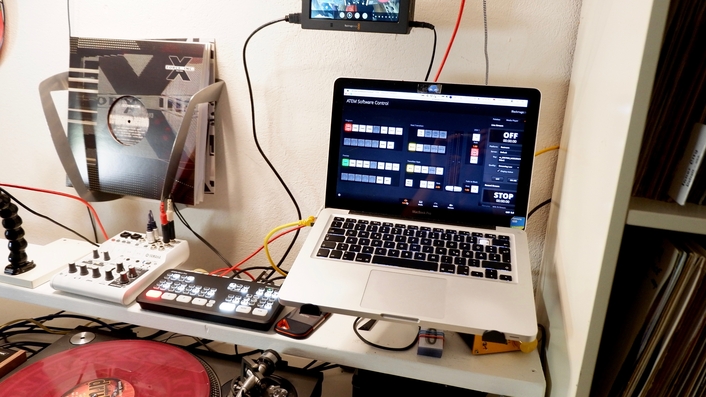 Broadcasting from his 'Rabbithole Studio', Mijk ran initial test livestreams with three cameras feeding into an ATEM Mini Pro, to bring his 'music 4 the microglobe' sessions to fans online. 
"One of my main concerns when bringing video into the stream was latency: if your viewers see that your scratching doesn't match up with the audio, it immediately causes a distraction, but there were no problems with the system," explains Mijk. "The ATEM Mini Pro was very responsive and accurate, and it was really a fun experience cutting between the angles during the two hour set. Because my audience doesn't have a preference in terms of platform, I used restream.io to take the session out to Twitch, YouTube and Mixcloud."
When it came to the Templin live event, Mijk knew that the venue's location of an abandoned garden would not have the internet connection to support a livestream. "However, I realised that we could embrace the recording capability of the ATEM Mini Pro, and capture the set in order to bring the event to even more people around the globe. It felt like two pieces of a jigsaw falling into place." 
Mijk and Carsten built an ultra compact set up, using the musician-orientated Zoom Q2n camcorder, a GoPro Hero 3+ and an iPhone X as camera sources, which were fed into the switcher and the program mix captured on a USB flash drive. Mijk also deployed the Filmic Pro app to enable the iPhone camera to switch from vertical to landscape view. 
"Once we'd used the ATEM Software Control to get the switcher set up on location, I was able to disconnect the laptop, add the flash drive and let it run," explains Mijk. "After the set had ended, I simply plugged in the drive and edited a more polished production for our YouTube channel, using DaVinci Resolve. Again, video editing is something I've never done before, and although the system can look quite overwhelming at first, I found the capabilities of DaVinci Resolve very powerful and yet easy to handle even on a beginner level."
Mijk believes this could set a new direction for the way live music events are produced. "I love the simplicity, both of the Blackmagic hardware set up, and the way in which content can be repurposed for a variety of platforms," he concludes. "Although we are all looking forward to getting back to our house music community, the reality is that this hybrid production set up will be here for the foreseeable. In fact, it will actually open up new and exciting options for the way in which we come together to share our love of music."