Televising the Revolution
As with the transition to HD, live sport is proving to be a fertile testing ground for the step up to UHD, something that ES Broadcast Hire's Managing Director Warren Taggart is very mindful of as he shapes the company's technology investment strategy. With OB clients requiring lengthy lists of high-end equipment, Taggart has prioritised building one of the largest 4K hire fleets in Europe. Making an early commitment to UHD Technology was a bold move that was laden with risk but which has seen ES Broadcast Hire firmly established as one of the leading providers this new category of equipment. 
Formula 1 GP in Monaco
Investing in the right 4K equipment to support OB clients
Investing in the right equipment has always been a matter of building excellent customer relationships and listening to clients' needs, explains Taggart. "Our OB clients are the ones at the coal face of live production – so we are able to work with them to identify technology trends, and to find out what demand there is from broadcasters for 4K.
"ES Broadcast also enjoys a really strong relationship with a wide range of the industry's leading manufacturers, including Sony, Grass Valley, Canon, Fujinon and EVS. This enables us to keep our finger on the pulse of what technology is being developed, and to discuss potential new solutions with OB clients, gauging their interest, and helping them to set up technology tests before they – or we – commit to a particular piece of equipment."
Some equipment investment is more obvious and straightforward than others, says Taggart. The proliferation of Sony cameras across the OB industry meant that acquiring HDC-4300 channels was a case of when, rather than if, ES Broadcast Hire would take the plunge. As it turned out, 'when' was very early in the process, with ES being the first UK hire company to make significant investment in 4K camera channels. The 4300 fleet has subsequently been expanded to 40 channels, one of the largest hire fleets in Europe.
"When the 4300 was announced as the world's first 2/3", native 4K resolution camera, it was apparent that it would in all likelihood become the go-to 4K camera for the industry, so it was a fairly straightforward decision once we knew the demand for UHD live production was there," explains Taggart. "Whereas something like lenses is much more down to personal choice, the specific job in question, and regional preferences."
Building a diverse 4K portfolio to service different markets
Servicing different markets across the continent calls for a diversity of choice.  And so the company has not only invested in a full 4K line-up of Canon box lenses much-loved in the UK – becoming the first rental house in Europe to offer Canon CJ12, CJ20, UJ27, UJ86 and UJ90 lenses earlier this year – but is one of the only hire companies in the UK to own a fleet of Fujinon UA14, UA22 and UA80 lenses, which enjoy increased popularity with European OB companies. Not that there isn't cross-over of course: in particular, Fujinon's 4K ENG lenses have seen action with UK OB companies, who have used them alongside Canon box lenses. The Fujinon UA80 has also been used regularly for UHD live coverage of Premier League football matches.
To meet the needs of the European market better, there are now two ES Broadcast Hire offices on the continent, as well as the UK offices in London and Manchester. In Munich, Charles Alexis heads up operations, while Marta del Moral has overseen the opening of an office in Madrid.
GP2 Race in Monaco
Supporting prestigious 4K sports events
Taggart's largescale investment in 4K technology is paying dividends, with ES Broadcast Hire's equipment being used for UHD broadcasts of some of the sporting world's most prestigious events in the last 12 months. Fourteen HDC-4300 channels were used at the Monaco Grand Prix, along with four Canon UJ90, five Canon CJ12, 12 Fujinon UA14 and nine Fujinon UA22 lenses. The company's newest 4K cameras, the Sony HDC-P43, also made their debut at the same race, before being used at Cardiff's Principality Stadium for the UEFA Champions League final the following week to capture aerial shots – for which the camera is perfectly sized.
The HDC-P43 utilises the same 4K CCU as its cousin the HDC-4300, and works with the same BPU-4000 base band processing unit, which enables 2x 4K slow motion (or 8x in HD). But as a purpose-designed POV camera, it lends itself particularly to remote camera positions and crane or aerial shots. Taggart agrees with Sony that there is a definite market for this camera. "Paired with a wide-angle lens like the Fujinon UA14 or Canon CJ12, the P43 opens up a world of options for wide angle stadium shots, or for filming from a helicopter. We felt it was a camera that would have a big impact for our sports and live events clients," he says.
With the prevalence of super slow motion replay from every conceivable angle in sports coverage, production servers have inevitably also needed to catch up to 4K. By acquiring two EVS XT4K's in May 2017, ES Broadcast Hire has again demonstrated its commitment to proactively supporting 4K live production. The XT4K is EVS' first dedicated 4K live production server, and offers four 4K channels with flexible in/out configuration, allowing operators to produce the latest in UHD slow motion replays. "EVS solutions lead the market – especially with the company's technological advances in production servers," explains Taggart. "The EVS name is synonymous with reliable, cutting-edge live solutions, and having them in our hire fleet will enable us to continue our commitment to providing market-leading 4K equipment to our clients."
Beyond sport – 4K for live events and studios
It's not just sport that is moving towards 4K though. ES Broadcast Hire has seen a big upturn in 4K rentals going out to live events such as music festivals, including performances at Sussex's Glyndebourne opera house. Light entertainment too is tentatively treading the path to 4K – and it is in these studio scenarios where the latest lens in Canon's artillery will really blossom. The UJ27 UHD DIGISUPER 27 was announced at IBC 2016 and Warren Taggart moved swiftly to place an initial order for four lenses, which were delivered earlier in 2017 – the first delivery of any hire company in Europe. The lens' flexibility for studio work such as sitcoms and panel shows, added to the ubiquitous need for a lens of this range on the halfway line at football stadia, made it a sound investment, says Taggart.
"Studios and OB companies have been requesting a smaller UHD box lens for some time now, so making sure we were at the front of the queue to get the UJ27 into our fleet was key to delivering the latest technology to our clients," he explains. "The UJ27 builds on the immense success of Canon's original HD DIGISUPER 27, and with the ease of use and reliability of Canon's lenses, I have no doubt it will prove to be very popular indeed – as well as making 4K achievable for a wide range of studio productions."
The missing piece of the 4K lens jigsaw is a successor to the Canon HJ40 – a workhorse lens if ever there were one. A 40x ENG lens is surely on the horizon, as both Canon and Fujinon complete the modernisation of their lens line-ups. The arrival of such a lens will further expand the scope of 4K broadcasts. "A 40x lens will give clients the full range of lenses that they've relied on in HD production for so long," Taggart says. "There's a lot of anticipation around it, and it will be perfect for sports like golf and darts."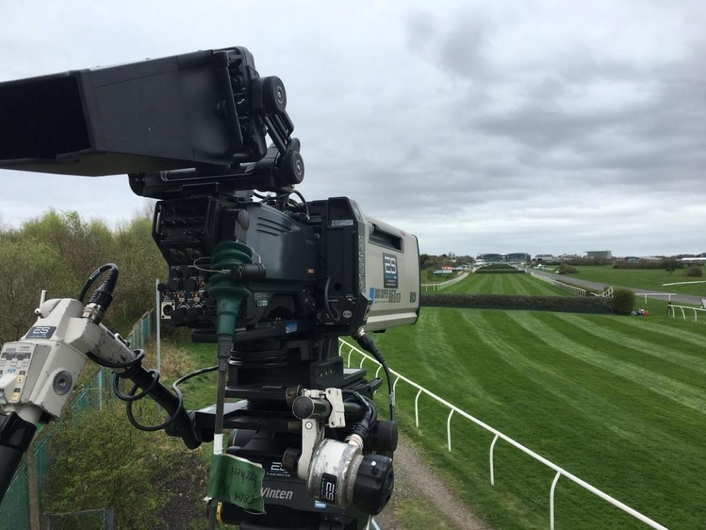 Turning 4K from an aspiration into reality
Of course, widespread 4K broadcast is still very much an aspiration, but even for productions that are still in HD, there is very much the beginnings of a transition to the equipment of the future. HD productions are benefiting from using cameras like the HDC-4300, with its high-speed imaging capabilities. In sport, for example, the 4300 has superseded the HDC-3300 as the camera of choice for slow motion, offering 8x capture at HD. Undeniably, the 4K revolution is gathering critical momentum, and ES Broadcast Hire is committed to helping broadcasters and OB companies deliver more and more live productions in UHD.
"Our philosophy is quite simple," says Warren Taggart. "We believe that 4K is the future of live production, and we want to be at the very forefront of making that transition a resounding success. The way we achieve that is by listening to our clients, by helping them to identify the best 4K solutions for their needs, and by continuing to pioneer investment in the latest 4K broadcast technology."