Race Broadcasts and Betting Intelligence
In 1974, the ATG (the Swedish Horse Racing Totalisator Board) was created to ensure the long-term financial stability of trotting and thoroughbred racing. Under contract by the Swedish government, the Swedish Trotting Association, and the Swedish Jockey Club, ATG oversees and administers all betting activity and operates 2,000 betting agencies throughout the country. Nearly 100 of these are "ATG Live" betting shops where customers can place bets and follow races live on television.
As the broadcast arm of the ATG, Kanal 75 produces more than 100 hours of TV every week including all racing broadcasts for the "ATG Live" shops as well as Sweden's TV4 network. We're on the air 365 days a year from early morning to late evening, and our broadcasts are also streamed to the Internet at www.ATG.se. Through those channels we attract betters not just from Sweden but from Australia, South Africa, the U.S., and about 20 European countries.
Kanal 75 is an important link in ATG's stated objective to "apply an innovative and responsible approach to make betting on horse racing exciting, entertaining and accessible." To that end, last year we launched an ambitious project to add leading-edge tracking, analysis, and virtual graphics technologies to every ATG race track. In this article, we'll describe that project in detail – including the requirements, deployed tools, and results.
Blazing a Technology Trail for Trotting
If you love to watch sports on television, it's a safe bet that your viewing experience has been enhanced by some sort of player tracking technology. Sports broadcasters all over the world are adopting tools known as electronic player tracking systems (EPTS) as the technology grows more sophisticated and offers new levels of automation and accuracy. Broadcasters can use EPTS data to tell a better story through graphically enhanced replays or even fully virtual replays in which animations recreate player movements. The data can feed across a wide range of visualization platforms, including 3D, interactive, and mobile, to help explain how a match unfolded. On-air pundits and expert analysts can better explain the dynamics of how games have been won or lost, and to empirically support their hunches.
EPTS technology has had an impact on virtually every type of team sport, but until we came along it had only seen limited application for horse racing. At Kanal 75, we wanted to be able to add the kind of graphic detail and analysis that our viewers had come to expect from other modern sports broadcasts. We knew this would require an EPTS solution that could track each horse and mark its position during a race with very high accuracy. We also needed technology that could easily translate from team sports to the world of thoroughbred racing, and clean integration with virtual graphics tools for presenting the EPTS data in harmony with the action on the screen.
After exploring EPTS options, we decided a transponder-based radio-frequency (RF) solution would do the best job of meeting Kanal 75's requirements. With core technology adapted from highly advanced military communications applications, this type of system uses RF transmissions to very accurately determine the position of transponders worn by athletes engaged in a sport; in our case, the horses.
Settling on a Solution
Based on an exhaustive evaluation of the market for RF-based EPTS solutions, we chose ChyronHego's ZXY in tandem with the company's Virtual Placement virtual graphics creation and placement tool and GS2 real-time, 3D graphics creation platform. Not only is ChyronHego a global leader in broadcast graphics creation, playout, and real-time data visualization systems, but it's the only vendor that could offer a complete and integrated solution from highly accurate data gathering all the way to ready-to-use output services for sophisticated and engaging television graphics.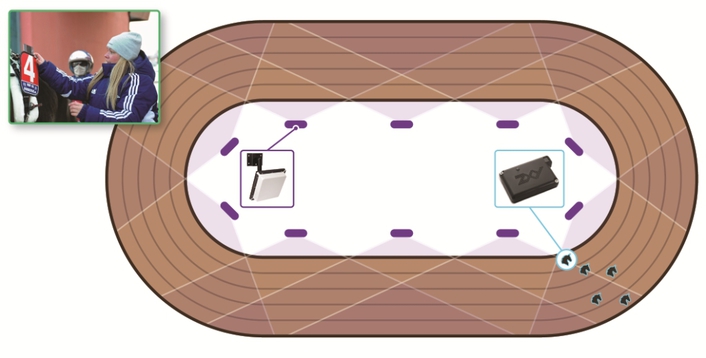 ZXY is known in the industry for its market-leading accuracy of +/- 20 cm, delivered by highly sophisticated RF tracking technology that has been field-tested by leading sports clubs around the world to study athlete performance in both training and actual match scenarios. The ZXY solution consists of lightweight transponders that include a highly sensitive and integrated internal measurement unit (IMU), as well as Bluetooth communication. The single-chip IMU contains an accelerometer, gyroscope, and magnetometer that offer additional metrics for measuring physical performance of the athlete, and the built-in Bluetooth chip enables other Bluetooth-enabled sensors and devices on the horse or sulky (cart) to communicate data throughout the ZXY ecosystem. Data can be visualized live on laptops or tablets through the ZXY monitoring software, which offers a range of dynamic and easily customized graph tools.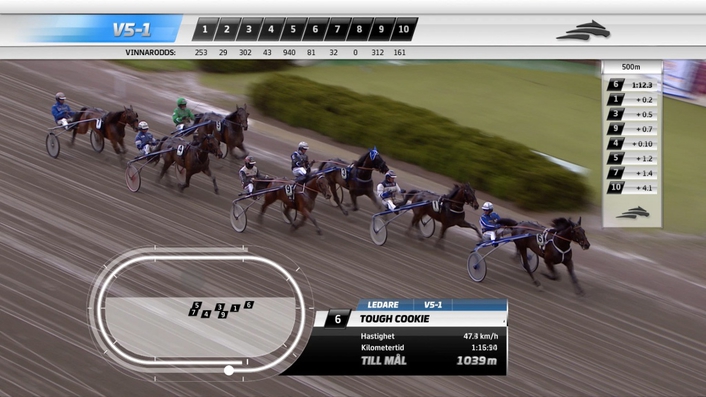 An Industry First
With this summer's completion of phase one of the Kanal 75 EPTS project, installation of ZXY at 17 Swedish Trotting Federation tracks, we'll mark an exciting milestone – the first application of ChyronHego's ZXY technology outside of football and the largest of its kind in the world of horse racing.
Throughout each race, a small ZXY transponder on each horse tracks its exact X, Y, and Z coordinates 30 times a second. In this manner, the system collects a large quantity of highly accurate data, such as the horse's actual path around the track, its speed and efficiency when running the course, the distance from one horse to another, the horse's acceleration, and more. In addition, ZXY applies behavioral algorithms that can predict factors such as the moment when a horse is about to go into a gallop, a gait that is prohibited in harness racing.
To enhance race broadcasts, we use the Virtual Placement GS2 graphics systems to translate the ZXY data into virtual graphics that are in harmony with the action on the screen, such as live marking horses within the broadcast; tracing a particular horse's path around the track; or displaying names, times, positions, statistics, and sponsor logos. These on-screen graphics bring ZXY's analysis to life for Kanal 75 viewers, creating a better and more exciting media product that supplies critical data for more informed and strategic betting. The graphics are also used to enhance various second-screen applications and Kanal 75's online streaming of races.
At Kanal 75, we're now able to add analysis and give graphic details that viewers expect from any modern sports broadcast, and we can enhance our second-screen experiences as well. EPTS solution has enabled us to reach not only our "hard-core fans" but also to expand our base of potential new customers over time. The TV graphics and onsite graphics enhance the experience for the viewers/spectators by providing graphics and brand new types of statistics. Furthermore, with new digital solutions the data (and graphics) open up the doors for completely and never-seen-before apps which also enhance their possibilities to reach new - and younger - audience. 
Although the initial objective of the project is to enhance our viewers' experience of harness racing, we're saving the collected ZXY data and accompanying virtual graphics. In a future phase, this information will be supplied to breeders, racing teams, and drivers to help them improve racing performance, just as coaches and players in many other sports do today.
Taking Trotting to New Levels
In Sweden, horses and horse racing are at the center of an entertainment industry that employs thousands of people around the country. ATG is committed to making a significant contribution to this key economic driver by offering racing fans the best-possible betting experience and using the profits generated by betting activities to the betterment of equine sport in Sweden. With the new ChyronHego tracking, analysis, and virtual graphics installations at the trotting tracks, ATG and Kanal 75 have taken a large step forward in meeting these goals.
The Kanal 75 ZXY project demonstrates how today's most innovative tracking, analysis, and graphics technologies can be applied to enhance intelligence and enjoyment of any sport. The ChyronHego sports tracking solutions have long provided football clubs with valuable tactical intelligence on players, teams, and officials. Now these technologies are being applied to take Sweden's trotting and thoroughbred racing to new levels of entertainment and informed decision-making for the betting community.