The Pinnacle of 4K Lens Quality
MAJOR PROJECTS IN EUROPE
In Europe "Timeline Television Ltd" was the first production company to acquire FUJINON's                             UA-Series lenses for their newt 4K UHD outside broadcast vehicle. Built by Timeline Television's System Integration division, the unit contains the latest UHD 4K technology including the World's first Sony 4300 2/3 inch UHD 4K cameras, Sony UHD 4K PWS-4400 server, the World's first FUJINON UHD 4K 2/3 inch UA80x9 (9-1440mm) EFP box and UA22x8 ( 8-352mm) ENG lenses, Snell Kahuna UHD 4K vision mixer and Sirius router, Axon signal processing equipment & Axon Cerebrum control system,  EVS XT3 UHD 4K servers, Grass Valley Kaleido-Modular-X multi-viewers & Belden cabling. The new OB built had been built in conjunction with BT Sports who awarded a four-year contract for the provision of Ultra HD 4K OB's; providing content for the new BT Sport Ultra HD channel that went live back in August 2015. Since then "Timeline TV" has produced numerous live Sports events ranging from the UEFA Champions-League to World Hockey-Championships. The superior optical quality of the foresaid live productions could and can be viewed on BT-Sport's dedicated 4K UHD Channel which has been a success, increasing the numbers of subscribers month by month since it went on air..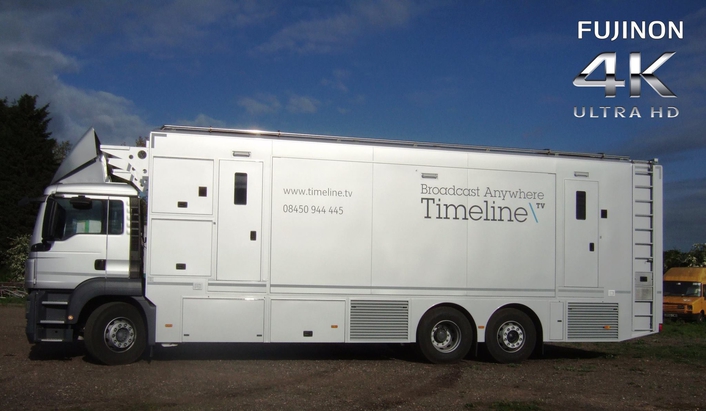 Timeline\TV UHD1
Another major bench-mark project was the acquisition of the CTV Project (Vatican Television).             The Vatican Television Center (CTV) was created in 1983. In November 1996 it was officially recognized as an organization fully associated with the Holy See. The principal aim of CTV is to contribute to spreading the universal message of the Gospel by using television to document the Pope's pastoral ministry and the activities of the Apostolic See, the Pope's general audience and other celebrations combined with the Holy Father's abroad. On this special occasion the "Centro Televisivo Vaticano" (CTV) produced the "Extraordinary Jubilee of Mercy" a major event in the Catholic Church, which commenced with the "Feast of Immaculate Conception" and the opening of the "Holy Door" (porta sancta).  The opening ceremony from the St. Peters Basilica was broadcasted live to a Global audience; the ceremony was covered by 4K UHD Fujinon UA-Series lenses (UA80x9 and UA22x8) in combination with Sony's HDC-4300 cameras.
CTV (Vatican Television) 4K OBVan
Fujifilm realizes that the transition to new 4K UHD acquisition and transmission technology will demand substantial investments by broadcasters and production companies in the industry. Especially here in Europe where most European State TV broadcasters just recently completed the migration from SD to the HD format. At this juncture they are not willing or able to take the next step towards the future. In contrast; private productions companies are less inhibited and more progressive in regards to investments into new technologies that will provide a strategic advantage in their respective fields of business. 
Fujifilm has thus forged alliances with "Rental Partners" in order to guarantee availability of the newest FUJINON (UA-Series) 4K UHD optical technology to those clients whom are currently in the assessment phase, or whom are not able to purchase new 4K UHD acquisition equipment at this point in time. One of Fujifilm's most prominent partners in Europe is  UK based Company "ES Broadcast Ltd" which acquired a large quantity of FUJINON UA80x9 and UA22x8 UHD lenses in order to fill the gap for European clients that have a demand which they cannot fulfill due to limited funding for new equipment acquisitions. Would like to rent FUJINON 4K UHD lenses – Please contact: http://www.esbroadcast.com
Fujinon 4K Lenses
After the introduction of the UA80x9 & UA22x9 lens models, there was a popular demand for longer and wider focal ranges. In response to this demand Fujifilm's R & D developed the all new UA107x8.4 (8.4-1800mm) which at current has the world's longest 4K UHD focal length, it has been complimented by the all new UA13x4.5 (4.5-118mm) Ultra-wide angle lens and upgraded telephoto lens UA80x9 (10.8-864mm) with 1.2.Extender which does provide more flexibility when shooting under diverse lighting conditions.
About the UA-Series
The UA-Series lenses are compatible with 2/3-inch 4K cameras. The applied EBC coating (electron beam) and "floating focus systems" which control multiple lens groups according to the shooting distance, deliver high-resolution, high contrast with a high dynamic range in images thru the entire focal range, from close-up to infinity; enabling 4K HDR video production with a realistic visual sensation with premium picture quality.
About Fujifilm (Fujinon)
Fujifilm has been engaged in the development and production of Fujinon TV & Cine lenses for over 50 years, enabling exceptional content creation around the globe. As a three-time (3) recipient of the prestigious "Emmy Award" for outstanding technological developments, the "IF Design Award" and "Red Dot Design Award"- Fujinon broadcast & cine lenses have repeatedly set the benchmark in the evolution of optical technology.