UEFA Europa League Finals 2020: TVN MOBILE PRODUCTION implemented UEFA's project
TVN MOBILE PRODUCTION implemented UEFA's project using almost exclusively permanent staff for the duration of the Finals. Two UHD-HDR OB trucks UE5 and UE6 from TVN as well as two UHD OB trucks from project partner NEP were used."We were aware of the great trust placed in us by UEFA, but also of the immense responsibility that such a contract entails in the current Covid-19 situation", said TVN Managing Director Markus Osthaus, describing the approach to the UEFA Europa League Finals 2020 production. "Thanks to the extensive previous experience in the implementation of large productions for UEFA and of course based on structured planning and our good network, we were able to implement the requirements with high quality, as expected."
In addition to the pure OB van service, the complete power supply for all TV compounds, the
equipment of the commentary positions, lighting, production vehicles and much more had to be
planned and coordinated for a total of 9 games from the Round of 16 to the Final, all of which were
produced in UHD/HDR. TVN also held the responsibility of selecting and providing the majority of the creative and production teams, from the match director to slow-motion operators and cameramen. The event was the latest major project for UEFA under the direction of TVN production manager Wolfgang Peiss: "In each stadium, up to 75 employees were on site for the individual matches and were coordinated by us."
From round to round, the production standards increased, both in terms of the number of cameras and
parallel feeds in UHD/SDR, UHD/HDR, HD1080i and HD1080p. The atmosphere was supplemented
by enhanced crowd audio supplied by Sky Deutschland. This artificially animated fan atmosphere was produced in real time in Munich and sent back via fibre optics. This was made available in individual soundtracks on the world feed. Furthermore, during the Final in Cologne, the TVN Live-Copter drone was used as a special camera for high-quality aerial shots outside the stadium and behind each goal, and a high-speed mini camera on a remote arm also provided special perspectives.
UEFA implemented a strict COVID-19 medical protocol across all of the final tournaments to ensure maximum safety. In order to deliver a high-end production in the unique circumstances while maintaining a safe environment, TVN was able to draw on extensive experience producing German Bundesliga matches following the return to play over the past months. This discipline contributed significantly to the success of the UEFA Europa League Finals 2020.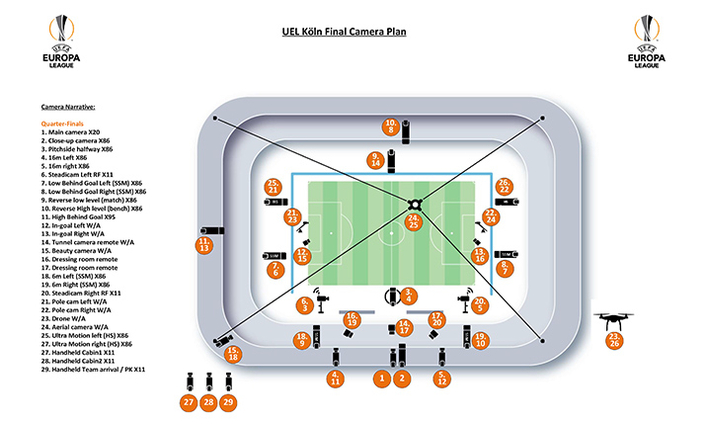 UEL Cologne Final Camera Plan
The broadcast format for the final was simultaneous synchronised and timed UHD­ HDR and HD-SDI 1080i50 feeds produced from a single production platform
Audio production featured full 5.1+2 Dolby E production, consisting of a 5.1 channel programme and a two-channel secondary audio programme
A Dolby E multichannel audio mix was made available for distribution and transmission for all the feeds
The 29 match coverage camera plan for the final included an aerial camera system; a drone camera, four super-slo-mo and two hi-mo cameras; two in-goal cameras; and two pole cameras
All finals tournament matches featured enhanced crowd audio available in HD and UHD transmissions, supplied by Sky Germany
About UEFA
UEFA – the Union of European Football Associations – is the governing body of European football. It is an association of
associations, a representative democracy, and is the umbrella organisation for 55 national football associations across Europe.
Its objectives are, among other things, to deal with all questions relating to European football, to promote football in a spirit of
unity, solidarity, peace, understanding and fair play, without any discrimination on the part of politics, race, religion, gender or
any other reason, to safeguard the values of European football, promote and protect ethical standards and good governance in
European football, maintain relations with all stakeholders involved in European football, and support and safeguard its member
associations for the overall well-being of the European game.
About TVN MOBILE PRODUCTION
TVN MOBILE PRODUCTION is a premium provider for outside broadcasts and realises sophisticated sports and show events
worldwide for public and private TV broadcasters. Whether UHD-HDR, TVN-developed onboard workflow for independent signal
processing of UHD and HD, 3D audio or 4 control room production with up to 100 cameras: TVN MOBILE PRODUCTION has
the certificate "tested service quality" of TÜV Rheinland and operates one of the most powerful OB fleets in Europe. The
company has more than 35 years of experience and is characterized by highly qualified, experienced personnel with maximum
reliability and flexibility. TVN is a sought-after supplier and partner for the development and market introduction of innovative
technical solutions. A company of the TVN GROUP Film & TV Production, with branches in Berlin, Bremen, Frankfurt on the
Main, Hamburg, Hanover, Kiel, Cologne, Leipzig and Munich.