Infront Productions uses Sony Virtual Production at BMW BERLIN-MARATHON
Last weekend, the Sony cloud-based live event broadcasting solution allowed Infront Productions to cost effectively streamline its workflow and reach new global audiences through social media with high quality live images of the BMW BERLIN-MARATHON. 
Sports event productions present multiple challenges, which can prove very costly, particularly with the need to move huge amounts of hardware to different locations. Using the Sony Virtual Production cloud switcher, Infront Productions could operate Sony Xperia™ smartphones, opening up new possibilities to connect and engage with the fans and also optimise resources and reduce set-up time.
Peer Seitz, Head of Production, Infront Productions commented: "We see a real shift taking place in production. In the past, we brought the data centre to the event, sometimes in the form of an OB van, but now, we're bringing the events closer to the data centre, simply by moving to the cloud and transferring content via the internet. We've collaborated with Sony Virtual Production for the BMW BERLIN-MARATHON and the set-up that we are implementing enables flexible resource allocation; in the future, it will allow production operators to work from wherever they want.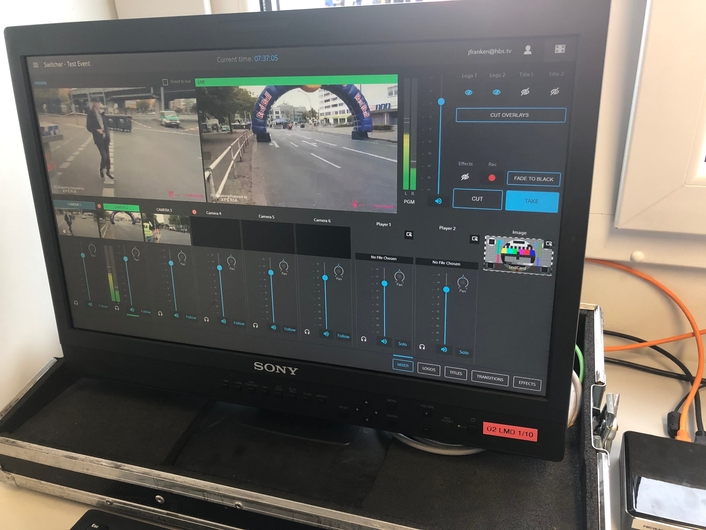 "We're seeing more interaction from users to the central production, mainly via social media. With cloud-based solutions like Virtual Production, we will be able to receive spontaneous video content contributions from fans all over the world. For us, that's a completely new way of engaging with viewers, which will bring sports events to the next level."
"There is a growing appetite for personalisation in viewing experience. One way of increasing the engagement of viewers is by adapting their high-quality content created on smartphones into the production. At Deutsche Telekom, we want to enable production companies to achieve this by providing the required network capabilities," adds Tiana Trumpa, 5G Product Manager at Deutsche Telekom. 
Stuart Almond, Head of Intelligent Media Services says: "At Sony, we are always evolving and responding to the market and we know that viewing habits are constantly changing. This drives the need for cloud-based solutions, which help content creators to reach their audiences anywhere and everywhere.
"By listening to the market, we developed Virtual Production and are excited to see the way Infront Productions have been using it. This successful application will open the door to a completely new way of sports productions and fan engagement, and we are proud to be part of it."
External Links