One concert, many technical remote locations: Purple Schulz's performance is completely remote controlled
Lighting designer Roland Greil from The Black Project (www.blackproject.design), who worked on the project from Munich, stated what the concert was all about: "The idea for a completely remote controlled concert came from Peter Brandt of Remote Recording Network GmbH. Coming from the sound department, he and his friends at Riedel developed a concept of how this could be implemented, not only for the sound but for all the disciplines involved. This is how I got involved in this project."
Greil explained the setup of this concert, which was recorded in Bottrop, Germany, in the rehearsal studio of TDA Rental GmbH Produktions- und Vermietungsgesellschaft, while Marc Brunkhardt, who acted as the lighting programmer and director, sat behind a grandMA3 full-size in Frankfurt, Germany, controlling the rig remotely. Sven Offen from Vienna, Austria, was directing the broadcast, while the cameras were controlled from Mainz, Germany. The sound was mixed from Cologne, Germany, and New York, USA. Another world's first was that the whole remote setup and transmission was based on normal household internet connections and not expensive dedicated fibre broadband connections. While all remote stations were connected via standard connections, the other end in Bottrop was connected via two 10mB DSL uploads and a couple of 4G and 5G routers with consumer SIM cards.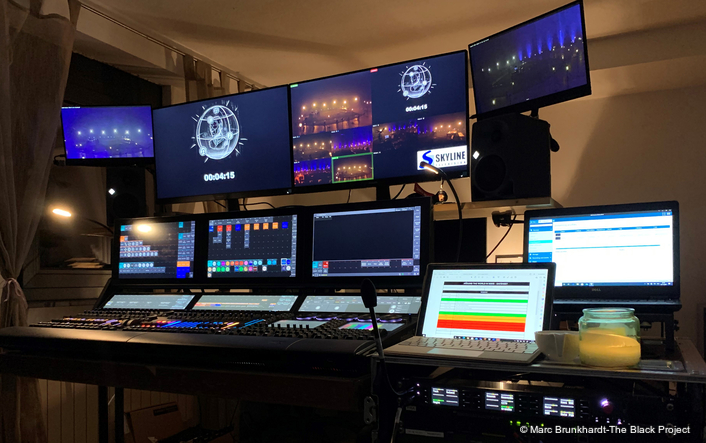 Looking on the lighting and production design side Greil commented: "My vision was to create a cozy intimate design and atmosphere for the show, which created the perfect background and atmosphere for Purple to perform in. Therefore myself and my associate Michael Kuehbandner put together a yet versatile but simple rig with an old school tungsten touch. As we had no audience we wanted to fill the space with some life and added 40 tungsten bulbs on elegant stands. On that end all pretty much business as usual for an intimate acoustic gig. The real challenge came up with the control side, as we fully controlled the rig remotely. As this was not enough, we also made the decision to use the grandMA3 software the very first time, as this promised to be the better platform for the remote setup. The system with a console in Frankfurt connected to a session with the onsite system in Bottrop, performed flawlessly after we worked out all the internet gremlins together with a great team from Riedel. Working together remotely was another challenge, that was on the table after the whole technical setup worked.
In the beginning it felt strange to sit in Munich behind some screens, while Marc sat a few hundred kilometers away behind the console and the only communication was via intercom. As we have both worked together many times before, we found a groove quite quickly and learned to master the hurdles of not having the chance to look at our rig and design in real at all. At the end of the day, we learned how to deal with the scenario and came out with a bag full of new experiences and a little proud, that we have done something, that has never been done before in that way, as far as we know."
TDA Rental Bottrop supplied the lighting equipment, TV Skyline the camera technology. Frances Mertens, Jörg Jungwirth and Solotechs Holger Schader were production managers.