HEROCast – We Will Rock You Isle Of Wight Festival 2016
Steve Price, Video Director for the Tour spoke to Vislink about how a HEROCast solution could be used to make this happen.
The challenge
The solution needed to provide high quality video and sound with low delay. This needed to be  mixed with the other video feeds in use and projected onto the large screen being used at the arena. The hand held device needed to be light and easy to operate with good battery life to allow for a full engagement with the audience.
The HeroCast Setup for the Queen Gig
The Solution
The solution included the Vislink HEROCast BacPac (HEROCast micro transmitter integrated with a GoPro HERO camera),  mounted onto a 'selfie stick'. Brian also had a second GoPro camera alongside the first to get Left and Right images that could be later turned into stereoscopic film to be posted onto his website.
Live HD video was transmitted from one of the cameras at 2GHz to the Vislink PROCeiver mounted on a tripod with fanbeam antennas.  A 1080i-50 HD-SDI output was then fed directly to the video mixing desk for real time mixing with other camera angles and instantaneous broadcasting to the audience.
Vislink's world-class team of engineers was available to help support the production team integrate the video selfie moments with their production suite.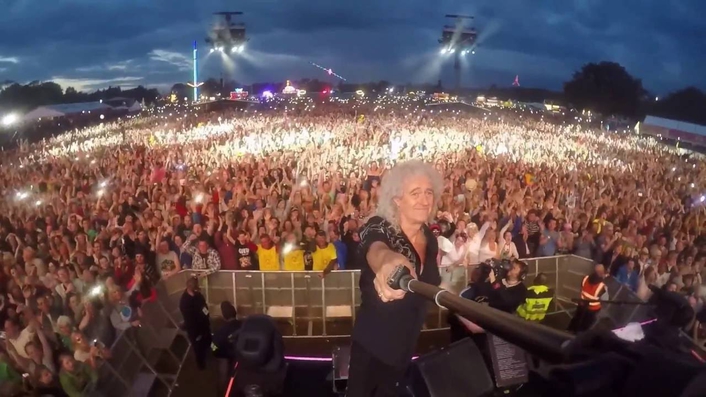 Brian May and the Selfie
The result
This is a classic example of the solution transforming the viewing experience and, in this case, allowing the audience to actually take part. The experience is transmitted and shown in high definition with low delay enabling immediate crowd participation.
As Steve Price explains:
"We have taken video selfies before, which we have loaded on YouTube for fans to look at later, but this is the first time we have broadcast them live at the event. Watching the crowd erupt as they see themselves becoming part of the show is fantastic. The idea was driven by Brian and this new style video selfie is great fun, it gives the band a real human connection with the audience.  They love the effect and it really does look good.
Who knows what other applications the creative people will dream up, but big rock concerts and festivals are obvious places to use this, showing everyone having a good time and sharing their magical moments – it's using technology in a very human way."