Grand Ole Opry Backs Up Reputation as "Country Music's Most Famous Stage"
With shows on Tuesday, Friday and Saturday at Nashville's Grand Ole Opry House (including occasional back-to-back shows on Fridays and Saturdays), the Opry's technical staff operates at a hectic pace with little margin for error. For its broadcast and post-production work, the Opry chose a Studer Vista 9 digital console.
Tommy Hensley, FOH Engineer, Grand Ole Opry
"We have been digital for a long time on the broadcast side, but we went with the Vista 9 because it was purpose-built for live broadcast and post," said King Williams, Broadcast Engineer, who mixes the live radio broadcasts and handles the post-production work, while also remixing performances for the Opry's marketing department to utilize. "Having the automation capability for both broadcast and post is important."
The FOH console at the Opry is a Studer Vista 5 M2 console, which features a TFT metering system capable of displaying signal levels from mono through to 5.1 channels on each input, with a configurable lower area which can be used to display bus assignments, surround images or the unique History Mode. Metering for 'layer 2' signals can also be viewed, while the Control Bay screen can be used to provide configurable user pages with up to 40 meters.
"We are working with 96 inputs and the Vista 5 M2 is set up on four banks of 10 on the top and six layers deep," said Tommy Hensley, FOH Engineer for the Opry. "I use three of those banks for inputs and a VCA in the middle. The console is very easy for me to navigate and I love the meter board. Being able to see the history right in front of me is a huge advantage. It's a great console and easy to operate."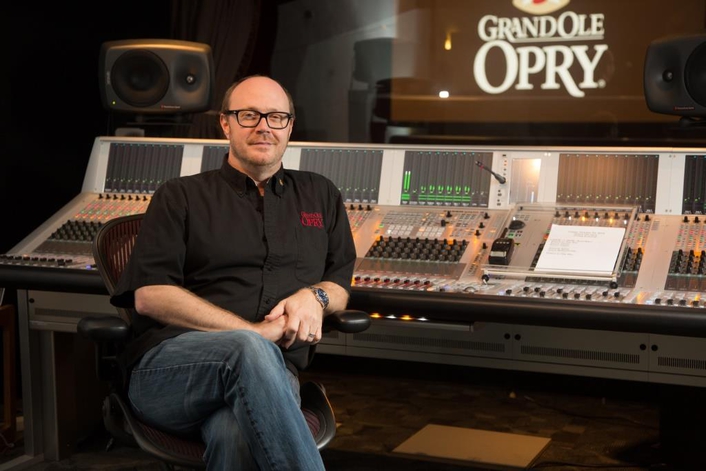 King Williams, Broadcast Engineer, Grand Ole Opry
Until the Opry upgraded to the Vista 5 M2, the FOH console was the last piece of analog audio equipment remaining. However, the Vista 5 M2 has provided all the benefits of digital technology while retaining the warm sound and tactile operation of an analog desk. "The recall on the analog board was just faders and soft keys—none of the mic pres, EQs, or limiters were recallable," Hensley said. "Needless to say, the Vista 5 M2 has made my life way, way easier."
"I love the comps and gates on the M2 as well," Hensley added. "The Lexicon reverbs sound great, and we have that feature on both Vista consoles here."

For the in-house and broadcast elements, built-in cue lists were priorities when deciding on both Vista consoles.

"Considering the number of artists we work with every week, we have tons of snapshots that we need to save to be able to recall the settings for each artist," said Kevin McGinty, Audio Engineer at the Grand Ole Opry. "Lots of consoles are not able to handle the cue lists that we require. We have several hundred snapshots for both consoles, and the Vista boards are able to store the tons of information we have in a very efficient way."
"The Vista 9 is set up to where I run down the cue list, recall the snapshots and fire away," Williams added. "It's important that I take a full snapshot of every artist, including mic preamp settings, because I am responsible for the multitrack recordings."

According to Hensley, it's not just the depth of the cue lists that make a difference; the ability to organize the lists alphabetically is an often-overlooked but crucial feature. "It's something that a lot of consoles don't have," he said. "Having those alphabetized cue lists helps us access those snapshots right away, which is important because most of the artists only play one or two songs, then you have a few commercials and you have to adjust to the next artist right away. It's really convenient to easily find the snapshots, quickly review them and lock them in."
Other HARMAN equipment at the Grand Ole Opry includes a Soundcraft Si Expression 2 in the video department and an Si Expression 3 that is used as a sidecar to the Vista 9, via a MADI interface. "We run radio commercials and other content on the Expression 3 and sometimes we'll get some playback from the video department that goes from the Expression 2 to the Vista 9 and Expression 3," Williams said. In addition to the Si Expression consoles, the Opry features HARMAN's JBL VERTEC® line arrays for its main PA system and BSS Soundweb London DSP for the Opry's 70-volt system.
In addition, Studer's commitment to customer support and hands-on service has stretched the value of the Opry's investment in the Vista consoles. "Working with Rob Lewis [Studer's US Sales Director] and James Tunnicliffe [Soundcraft Studer Field Support and Applications Engineer] has been an absolute pleasure," said Jon Mire, Technical Services Manager for the Grand Ole Opry. "They have been there for us whenever we've needed them and provide the best support I could ask for. That kind of attention to detail makes a huge difference."
"When it comes to music venues, few can match the prestige of the Grand Ole Opry, so when it comes to technology, there can be no sacrifice in performance," said Mike Franklin, Senior US Sales Manager, Studer. "This is a tremendous showcase for the capabilities of Studer digital consoles in live and broadcast environments and it's a pleasure working with the team of true professionals at the Opry."
HARMAN designs, manufactures and markets premier audio, visual, infotainment and integrated control solutions for the automotive, consumer and professional markets. With leading brands including AKG®, Harman Kardon®, Infinity®, JBL®, Lexicon® and Mark Levinson ®, the Company is admired by audiophiles, musicians and the entertainment venues where they perform. More than 25 million automobiles on the road today are equipped with HARMAN audio and infotainment systems. HARMAN has a workforce of approximately 16,000 people across the Americas, Europe, and Asia and reported sales of $5.3 billion for the twelve months ended June 30, 2014.