disguise xR Drives Alok's Dynamic 'Alive' Music Special Live Streamed in Brazil
Project Director Fabio Soares from OkeStudio along with TheForce invited Sao Paulo-based, full-service AV company Maxi to provide the xR workflow for the show, along with disguise workflow specialist Tito Sabatini on technical support.  The special immersed Alok in dynamic, ever-changing environments featuring colorful forests of stylised mushrooms and trees, galactic particle streams, synapses, shimmering ice shards, cities that build and dissolve.
Support from disguise "was something we couldn't live without," Jose Augusto Martins, Executive Director at Maxi, reports. "With a big project like this and all the tech video crew learning how to use xR, disguise's support was key.  It gave us the confidence to run things properly. We wanted people to feel the energy of a real show and that was achieved.
"'Alive' was a huge xR project, and we were doing it for the first time in Brazil, so we learned a lot during the process of making the project a reality," Jose adds.
Maxi was the only rental company with the toolset to deliver the xR production, he notes.  As the technical brief required the use of all three key render engines Unreal, Unity and Notch, plus multiple camera switching with four tracked cameras using the Estabili tracking system, disguise was the only tool capable of delivering the brief, Tito explains. "It's render agnostic and could handle multiple camera switching, timecode following DJ cues and more."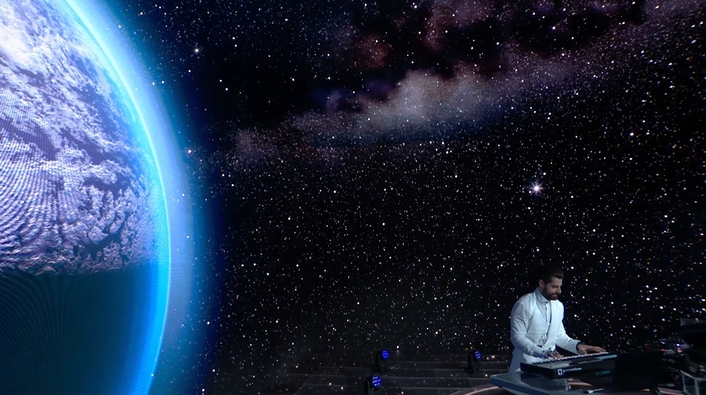 The team at Maxi were faced with a tight deadline to learn the pipelines for all three render engines and set up tracking for four cameras, while also helping everyone involved to understand the xR workflow and how it makes virtual production possible.
"This was a huge production, and the dedication of everyone involved made it happen," Tito notes. "After the show, Alok's manager and crew were very emotional, relieved and happy. Public feedback was amazing as well; people from the industry in Brazil came to congratulate us, and that was a nice feeling to have after such a bad year for the music industry."
Jose believes that xR has a bright future in the live music market, bringing presenters and artists to any environment possibly imagined. "I think this is a technology that makes everyone say, 'Wow!'"  Maxi already has ticked another xR gig off the calendar as rapper Criolo live streamed a concert special in Extended Reality on 23 January.           
Credits:
Creative Director:  Fabio Soares
Executive Producer: Fernanda Padrão
xR concept: OkeStudio and TheForce
xR Creative Director: Luciano Ferrarezi
xR Content Director: Dejumatos
xR Technical Directors: Tito Sabatini and Gabriel Weckmuller
About disguise
The disguise technology platform enables creative and technical professionals to imagine, create and deliver spectacular live visual experiences at the highest level.
Combining real-time 3D visualisation-based software with high performance hardware, disguise delivers challenging creative projects at scale and with confidence. Its new award-winning Extended Reality (xR) workflow is empowering users to bring to life immersive visual experiences that inspire and engage remote audiences everywhere.
disguise xR has already powered immersive real-time productions for music artists such as Katy Perry and Billie Eilish, enterprise businesses like SAP and Lenovo, educational institutions like the University of Michigan, broadcast TV shows like MTV Video Music Awards and America's Got Talent, commercial brands like Nike and Under Armour and many other virtual experiences in more than 30 countries.
With an ever-increasing global partner network and working alongside the world's most talented visual designers and technical teams in live events, TV broadcasts, films, concert touring, theatre, fixed installations and corporate and entertainment events, disguise is building the next generation of collaborative tools to help artists and technologists realise their vision.
External Links