Is There a Place for Smartphones in Professional Video Production?
Apple has been keen to shine the spotlight on the advanced video capabilities of the iPhone 11 Pro this year and, whilst its latest flagship may awaken more curiosity in mobile video capture, the use of smartphones for professional video acquisition is nothing new.
It's now five years since filmmaker Sean Baker shot his breakthrough feature film, Tangerine, on a handful of iPhone 5s - a film that went on to become a breakout hit at Sundance Film Festival in 2015, securing it a theatrical run in cinemas. Steven Soderbergh (of Ocean's 11 fame) then proceeded to bring some Hollywood clout to smartphone shooting, with his feature films "Unsane" (2018) and "High Flying Bird" (2019) more recently raising the profile and credibility of smartphone video production.
Many will dismiss using a phone as the A-camera on a feature film as merely a PR stunt and, whilst Baker and Soderbergh's choice of camera did contribute to the notoriety of their aforementioned films, both filmmakers attest to the fact that the camera choice was motivated by the advantages it would lend to their process, purposefully keeping their camera rig and equipment minimal to increase speed, mobility and location access when shooting.
This leads on to the question, why actively choose to use a smartphone? In the simplest terms, mobile acquisition offers three fundamental advantages: these devices are compact, discrete and connected.
The compact nature of a smartphone is immediately obvious and is precisely the reason they have quickly eroded the consumer point and shoot fixed lens camera market to become the most convenient everyday acquisition device.
As everyone carries a mobile, using one lends discretion, as it does not mark you out as a "professional". This has proven to be of use to both journalists and documentarians, allowing them to keep shooting in situations and environments where a professional camcorder would draw unwanted attention and perhaps even pose a risk to their safety.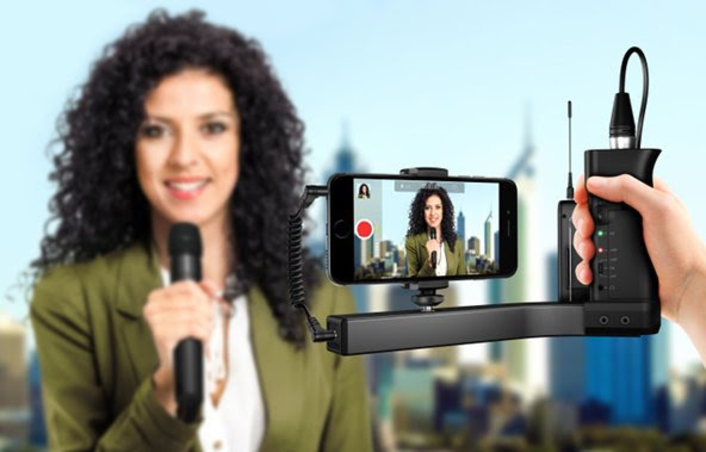 Mobile connectivity also grants direct access to emails, social media and the cloud, speeding up video sharing and publishing, whilst creating opportunities for more reactive and dynamic workflows. This can be a crucial asset for digital content creators, as quick turnarounds for deliverables are often a necessity to keep pace with the demands of ravenous online audiences.
Born of this desire to use smartphones to produce professional video in a way that other professional cameras cannot, a range of apps for both iOS and Android have emerged that will allow users to bypass their default camera app and enable more sophisticated control of their image and recording. Filmic Pro has established itself as an industry standard amongst mobile shooters, as it allows users to record high bitrate video, in 24p, PAL and NTSC framerates, to help conform video to global film and TV standards.
The toolkit of apps to support the professional use of smartphones is also growing. Broadcast and pro video equipment vendors have taken note of the desire to integrate smartphones into existing workflows. For instance, Sony's mobile app XDCam Pocket, enables smartphones to be used with their cloud-based news production workflow, XDCam Air, letting users stream video direct to a receiver or send back files already recorded on the device. Meanwhile, NewTek's NDI app allows smartphones to become additional video sources in an existing NDI production setup. This is especially helpful to creatives and companies with limited resources, allowing them to make better use of imaging devices they already have available.
Smartphones have reached a stage where they are capable enough to be a viable entry level device for those starting to create professional video. End-users who traditionally would not have had the budgets for even a single pro video camera can now create credible video with the tools that they already own. Smartphones are particularly appealing to a younger generation of creatives that have grown up using touch screen, and to whom intuitive smartphone interfaces can be less daunting than an array of physical buttons and controls.
With just some basic training on how to maximise the advantages of their device and minimise its shortcomings, the results that relative newcomers can achieve with their own devices is impressive. As the video capabilities of the latest generation of handsets continues to improve, it becomes harder for those that have started shooting on their phone to justify the cost of upgrading to a dedicated professional device. There will be a proportion of creators that will never need a professional camcorder and will be content on creating for their audience with an alternative device. At Futuresource, the Imaging and Pro Video team has closely observed the convergence of consumer and professional imaging devices. In recent years, the entry level <$2,500 camcorder segment has faced decline in a number of key markets, as volumes have been cannibalised by DSLR and mirrorless cameras being used for professional video acquisition. In 2018, this became a universal trend as total pro camcorder volumes in this price segment decreased by 14% globally year-on-year, while a similar rate of annual decline was seen in 2019 Q1-3.
The use of DSLR and mirrorless cameras has helped to grow the total pro video market (pro camcorders, as well as DSLR and mirrorless used for pro video) by reaching a larger addressable market. By the end of 2019, the total pro video market is forecast to reach a total of 92,700 units in Europe, an annual increase of 13% year-on-year. The combined sales of DSLR and mirrorless cameras for pro video use will account for 64% of the total European pro video market volume.
The use of smartphones is now beginning to affect the overall pro video market, although it will be DSLR and mirrorless cameras sold for pro video that will experience a greater decline in volumes than entry level camcorders as a result of the growing use of smartphones. Interchangeable lens cameras currently account for the largest share of the entry level pro video market, due to their perceived value for money, ease of use and accessibility for first time shooters. Smartphones can outmatch both DSLRs and mirrorless cameras on all three of these fronts, whilst camcorders are less vulnerable to cannibalisation, as they are chosen for their ergonomics, dedicated pro audio inputs and internal recording codecs, all of which a smartphone cannot supersede at this point.
When delving into the controversial topic of smartphone video, it's important to remember that smartphones are just another tool. For many professionals, their tool of choice will continue to be tried and tested camcorders like Sony's FS7 or Canon's C300, for others it may be one of the new swathe of "video-first" mirrorless cameras like Panasonic's S1H, but for an increasing number of individuals it will be a smartphone. Smartphones will inevitably carve out a place in the pro video market as they are adopted in specific use cases that play to their strengths, whilst a growing user base of entry level creators emerge that are learning to master smartphones as their very first pro video camera.
Futuresource's Convergence in Pro Video reports were published in 2019 and show the impact of DSLRs, mirrorless cameras and smart phones on pro camcorders in the US and Europe. The APAC report is due to be released in H1 2020.