Large Scale Live Production from a Single OBVan
However, as budgets tighten, production teams are always searching for innovative ways to achieve extremely high quality production values whilst remaining competitive. Alexander Muckenhirn, owner of MUCKiMEDIA has done just this, using Blackmagic Design's ATEM Production Switchers and his own automation software to successfully deliver the entire live production of Germany's Radio Regenbogen's annual awards event with a one man crew.
Anastacia
Alexander, owner of MUCKiMEDIA, has used the ATEM's SDK to develop software that automates multiple processes and outputs, essentially giving 'more hands' to a technician operating an ATEM switcher, combined with any number of Blackmagic Design HyperDeck SSD recorders, and any number of I/O interface modules with 16 to 64 inputs and outputs. His controlIT software has enabled his OB van, kitted out with an ATEM 2 M/E Production Switcher, four HyperDeck Studio Pro SSD recorders and a Universal Videohub for signal distribution, to increase the amount of outputs that can be managed by a single production technician.
Blackmagic Compact Videohub, SmartScope Duo and HyperDeck Studio Pro with ATEM 2ME Broadcast Panel
MUCKiMEDIA's largest production is for the Radio Regenbogen's annual awards show, which takes place every April in front of more than 1,500 music fans in the Europa Park theme park in South West Germany. Alexander singlehandedly manages simultaneous content production for big screens, video walls during live performances by German and international pop artists, which included Anastacia and X Factor winner James Arthur, and program output for regional broadcast on Baden TV.
The controlIT software can be deployed and personalized in a number of ways to give more flexibility to a single operator through one interface. "A good example of how the software functions in live events is managing outputs to LED walls," explains Alexander. "A well-used simple workflow produces a single program output for TV broadcast and in the arena, but wide angle cameras can produce image feedback on large LED screens. The software defines specific camera sources as wide angle, so one technician can produce two very similar outputs, but can ensure no wide angle camera shots are included in the big screen output.
"The Radio Regenbogen awards workflow uses more than 1500m of optical fiber cable connecting eight HD cameras, including wireless stage cameras, a crane and cameras in the middle and at the back of the stage to be able to capture the action on stage as well as the atmosphere throughout the arena, so the ability to preprogram the wide angle output gives the technician one less thing to worry about on such a hectic production."
X Factor winner James Arthur
The technician can also control backdrop video content needed during stage performances by managing clips stored on the HyperDeck Studio Pro in a programable playlist via the software or directly on the ATEM, and then automatically switching to a predetermined source after the end of the clip. "At the 2013 awards show, we had artists such as Mike and The Mechanics, Floyd Reloaded and Caro Emerald performing, each with their own very different video requirements, so this function was vital as we moved from performance, to awards, back to performance," explains Alexander.

The software is also able to manage stinger effects in the ATEM. In live productions, this is common when cutting from a live image on slow motion. A normal crossfade is used to get from one slow motion channel to another, and a stinger effect switches back to the live signal. These transition effects can be automatically applied through the software, which also remembers the last switched source before the slow motion started and returns to it.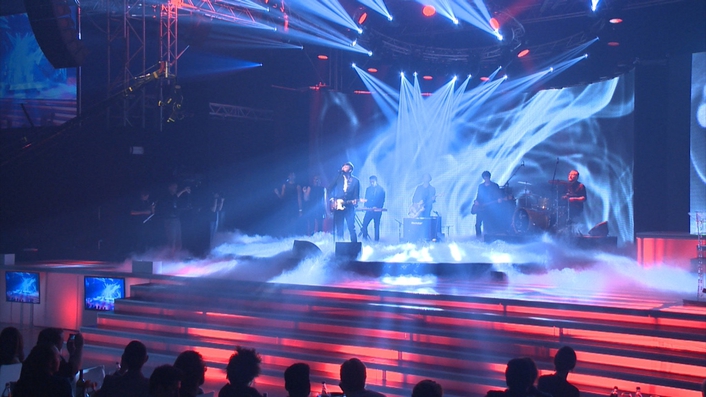 X Factor winner James Arthur
"Live production is a highly pressured environment, so we designed the software to provide the flexibility and capacity for technicians to deliver excellent quality content, particularly when working in small teams, which are becoming increasingly common as budgets are restricted," concludes Alexander. "The ATEM 2 M/E Production Switcher makes an extremely effective hub for any OB workflow, and when combined with the controlIT software, can mean that major events, such as the Radio Regenbogen awards, can be reliably handled to produce multiple outputs for the auditorium, online and broadcast audiences.