Grass Valley Races Ahead with EUROMEDIA
Upgrading the 4 M/E Kayenne K-Frame switcher panels in the two trucks from their Compact K-Frames with 80 HD/3G inputs and 48 HD/3G outputs to Standard K-Frames with 180 HD/3G inputs and 84 HD/3G outputs to provide 40 4K UHD inputs and 20 4K UHD outputs in four- quadrant mode, will meet the needs of its 4K UHD productions while easily switching to HD/3G when needed.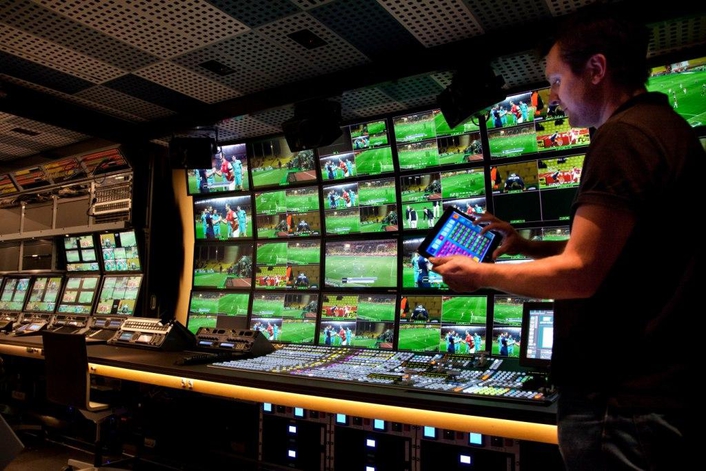 Grass Valley's Kayenne K-Frame switcher in Euromedia OB Truck A21
Gaël Tanguy, EUROMEDIA's technical director explained, "It's one thing to achieve a one-off 4K UHD production, but it's another story when the pace increases to one match per week. In order to ensure a successful debut, we combined the forces of EUROMEDIA's production crew with Grass Valley's Kayenne K-Frame switcher in our OB Trucks A21 and B40."
Designed to support a variety of sports or entertainment productions, the two trucks have already travelled to several events flexing their new 4K UHD capabilities—OB A21 and OB B40 recently provided Canal+, the French premium cable television channel, with the graphics for the private feed of the Sunday night prime time main soccer matches and will be deployed for rugby matches as well.
Kayenne K-Frame brings the highest level of performance available to live productions with the innovative features and upgradability only available from Grass Valley. Kayenne provides full multiformat support, including 3G and 4K UHD, as well as up to 192 inputs, 96 outputs and up to 9 M/Es with six keyers in every full M/E for HD/3G and up to 48 inputs, 24 outputs and up to 4 M/Es with three keyers in every full M/E for 4K UHD. In addition, Kayenne K-Frame switchers are now available with IP I/O for SMPTE 2022-6 connectivity.
"EUROMEDIA is a great example of a service provider that is looking to the future, making decisions and investments that will position them well to deliver content that stands above what is currently on the market," explained Jan Pieter van Welsem, vice president of sales and marketing, EMEA, Grass Valley. "A lot of thought and planning went into this move, knowing that our solutions are playing a key role is very gratifying."
About Grass Valley 
Grass Valley is a trusted partner completely focused on empowering customers to create, control and connect content wherever, however and whenever it is consumed. In this ever-changing media landscape, content remains the most important element. Many of our customers are faced with the need to create and support new workflows while continuing to operate their legacy workflows, simultaneously broadcasting through traditional channels, Over-The-Top platforms, and Video-On-Demand as well as to tablets, PCs, and mobile devices.