Olympic Games 2012: Boxing
Boxing already was popular at the original Olympic Games in the 7th century BC, when opponents fought with strips of leather wrapped around their fists. The sport's regulations were codified in 1867 as the Marquess of Queensberry Rules, named in honour of the nobleman who endorsed them. The essence of these rules is still in place today, governing this perennially exciting and dramatic Olympic sport.
History
Fist fighting depicted in Sumerian relief carvings from the 3rd millennium BC, while an ancient Egyptian relief from the 2nd millennium BC depicts both fist-fighters and spectators.  Both depictions show bare-fisted contests. Other depictions can be seen in Assyrian, Babylonian and Hittite art. In 1927 Dr. E. A. Speiser, an archaeologist, discovered a Mesopotamian stone tablet in Baghdad, Iraq depicting two men getting ready for a prize fight. The tablet is believed to be 7,000 years old. The earliest evidence for fist fighting with any kind of gloves can be found on Minoan Crete (c. 1500–900 BC), and on Sardinia, if we consider the boxing statues of Prama mountains (c. 2000–1000 BC).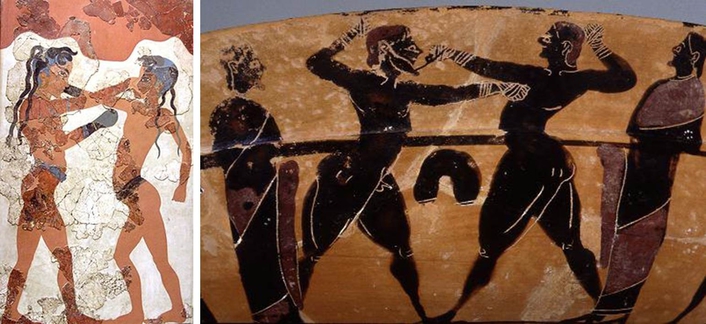 Records of Classical boxing activity disappeared after the fall of the Western Roman Empire when the wearing of weapons became common once again and interest in fighting with the fists waned. However, there are detailed records of various fist-fighting sports that were maintained in different cities and provinces of Italy between the 12th and 17th centuries. There was also a sport in ancient Rus called Fistfight. As the wearing of swords became less common, there was renewed interest in fencing with the fists. The sport would later resurface in England during the early 16th century in the form of bare-knuckle boxing sometimes referred to as prizefighting. The first documented account of a bare-knuckle fight in England appeared in 1681 in the London Protestant Mercury, and the first English bare-knuckle champion was James Figg in 1719. This is also the time when the word "boxing" first came to be used. It should be noted, that this earliest form of modern boxing was very different. Contests in Mr. Figg's time, in addition to fistfighting, also contained fencing and cudgeling. On 6 January 1681, the first recorded boxing match took place in Britain when Christopher Monck, 2nd Duke of Albemarle (and later Lieutenant Governor of Jamaica) engineered a bout between his butler and his butcher with the latter winning the prize.
Early fighting had no written rules. There were no weight divisions or round limits, and no referee. In general, it was extremely chaotic. The first boxing rules, called the Broughton's rules, were introduced by heavyweight champion Jack Broughton in 1743 to protect fighters in the ring where deaths sometimes occurred. Under these rules, if a man went down and could not continue after a count of 30 seconds, the fight was over. Hitting a downed fighter and grasping below the waist were prohibited. Broughton also invented and encouraged the use of "mufflers", a form of padded gloves, which were used in training and exhibitions. The first paper on boxing was published in the late 18th century by successful Birmingham boxer 'William Futrell' who remained undefeated until his one hour and seventeen minute fight at Smitham Bottom, Croydon, on July 9, 1788 against a much younger "Gentleman" John Jackson which was attended by the Prince of Wales.
These rules did allow the fighters an advantage not enjoyed by today's boxers: They permitted the fighter to drop to one knee to begin a 30-second count at any time. Thus a fighter realizing he was in trouble had an opportunity to recover. However, this was considered "unmanly" and was frequently disallowed by additional rules negotiated by the Seconds of the Boxers. Intentionally going down in modern boxing will cause the recovering fighter to lose points in the scoring system. Furthermore, as the contestants did not have heavy leather gloves and wristwraps to protect their hands, a certain amount of restraint was required when striking the head.
The Basics
The Olympic Boxing competition will feature 10 men's weight categories, from Light Fly Weight (46-49kg) to Super Heavy Weight (over 91kg). At London 2012, women's Boxing will feature as a full Olympic medal event for the first time, with medals in three weights: Fly Weight (48-51kg), Light Weight (57-60kg) and Middle Weight (69-75kg).
In the Olympic Games, men's bouts take place over three three-minute rounds, with women's bouts held over four rounds of two minutes each. The fighter who knocks out their opponent or scores the most points wins. Boxers score one point for every punch they land with the marked part of their glove on their opponent's head or upper body. If three of the panel of five judges hit electronic buttons within a second of each other the boxer is awarded a point.

Any boxer who moves more than 12 points ahead of an opponent automatically wins. This system differs from professional boxing where points are awarded based on each boxer's overall performance in a round, not for each individual successful punch.
Each boxer is given a corner, labelled red or blue. This is also the colour of the clothing they wear to fight. All fighters must also wear protective headgear, a key difference from the professional bouts.
The Format
At London 2012, all Boxing events will be run in a knockout format. The winners of the two semi-finals in each weight category will fight for the gold medal, with the losers of the two semi-finals each awarded a bronze.

The London Boxing competition will be held at ExCeL, a multi-purpose events venue that will also host a number of other Olympic and Paralympic sports.
Countries can enter a maximum of one athlete per weight class (10 for men and three for women). As hosts Team GB are automatically given one female and five male spots. In the men's competition the top two finishers at each weight class in the World Series of Boxing Individual Championships in May 2011 secure Olympic spots. A top 10 finish (six for heavyweight and super-heavyweight) at the World Championships also secures qualification. Remaining places are filled via continental Olympic qualification tournaments and invitations. In the women's event the top eight finishers at the World Championships qualify for the Games.
Key facts

Events / Disciplines: Men's light flyweight 49kg, men's flyweight 52kg , women's flyweight 51kg, men's bantamweight 56kg, men's lightweight 60kg, women's lightweight 60kg, men's light welterweight 64kg, men's welter weight 69kg, men's middleweight 75 kg, women's middleweight 75kg, men's light heavyweight 81kg, men's heavyweight 91kg , men's super heavyweight + 91 kg

Venue: ExCeL

Dates: Saturday 28 July – Sunday 12 August

Medal events: 13

Athletes: 286 (250 men, 36 women)