Compact OB Vehicles
First established in 2013, HKT works with a number of international broadcast clients. Its advanced design, engineering and coach-building capabilities are such that HKT can take a standard vehicle and adapt it to the exact needs of a broadcaster or service provide in any market, operating in any climatic conditions. One company that Hitachi works closely with is international broadcast solution provider, Gearhouse Broadcast. Recently, the company has invested in two new OB vehicles – one each to support client business operations in South Africa and Qatar.
Vision View Productions
Working together, Hitachi Kokusai Turkey and Gearhouse Broadcast have delivered a ten camera full HD outside broadcast truck to leading South African services company Vision View Productions. Following extensive systems design, integration and testing at Hitachi Kokusai Turkey's facilities,
the vehicle has been commissioned in South Africa.
Using a locally sourced 26 tonne Mercedes-Benz Actros truck to meet South African fuel and emission regulations, Gearhouse Broadcast and Hitachi modelled the workflow as closely as possible to its OBLite trailer that Vision View purchased in 2014. The new vehicle is equipped with nine Hitachi HD-SK1200s and one Hitachi HD-SK1500 slow motion camera and Canon lenses as well as two Q-Ball point of view cameras.
Inside the spacious unit is a Ross Carbonite Black CB3X vision mixer, two EVS XT3 live production servers, a NewTek 3Play slow motion instant replay system and a 32 channel Studer Vista 1 audio console. It also offers discrete 5.1 surround sound audio through an extensive set of Sennheiser microphones including the Esfera SPM 8000 with SBP800, four MD 42s and six MKH 416s.
Mafadi Mpuru, managing director at Vision View said, "To put it simply, this new truck is beautiful. We're delighted with the build quality, how well it performs and how comfortable it is to work in. Its size gives us the ability to cover larger events, but still be flexible to take on a wide variety of jobs. The similarity in workflows and equipment with our Gearhouse OBLite trailer means we can switch crews between the two seamlessly."
Nigel Haniff, account manager at Gearhouse Broadcast added, "As Vision View has demonstrated with this investment, there's a growing demand from operators for mid-size and smaller OB vehicles that give them the flexibility to deliver productions of different sizes."
Gearhouse Broadcast Gulf
A second compact multi-functional outside broadcast production vehicle with sophisticated DSNG capabilities has been supplied by Hitachi Kokusai Turkey to Gearhouse Broadcast Gulf, based in Qatar. The Iveco 70C17 is fully 3G and HD compatible and is available to rent throughout the Middle East.
Ideal for use both as a small, flexible production vehicle and in the field newsgathering, Gearhouse's new van excels on productions where a larger OB truck would be impractical or cost prohibitive. The state of the art van comfortably seats a crew of seven and is available to rent across the region on a dry hire basis or complete with a crew of skilled and experienced operatives. The seven tonne Iveco truck is fitted with 62,000 BTU air conditioning – perfect for the Middle Eastern climate – and measures approximately 4m (h) x 8m (l) x 2.5m (w) with an expanded fully operational total width of 4.5m.
Flexible and featuring the latest technology from many leading industry vendors, the vehicle is well suited to provide facilities to local production teams or international crews shooting in the region. Its implemented workflow is suited to servicing a number of events including outside news broadcasts, political events, award ceremonies or sports.
Small footprint, powerful functionality
The brand new production truck with DSNG capabilities runs six main Hitachi SK-HD1300E cameras with two optional Vislink 1700 RF cameras, and a wide choice of lenses are also available. It's fitted with a 36 input switcher with 2ME's, 48x48 video router and Imagine Communication's glue that includes frame sync, audio de-embedding and embedding facilities. A multiviewer and a Sony HDW-M2000P digital recorder and player are also installed in the vehicle and an EVS XT3 live production server can be added on request. The vehicle comes fitted with a Yamaha DM1000VCM 48 input 18 fader audio desk and a 32 port talkback system
The vehicle's satellite is a fully motorised, redundant 400w DSNG 1.5m 1+1 Ku band 2 port system. It features an encoder/modulator to support SD and HD MPEG-2, MPEG-4 and AVC codecs in 4:2:0 or 4:2:2 8 or 10bit sampling rates. To support the truck's facilities an on-board 15KVA generator has been fitted.
"With the introduction of this new production vehicle and its DSNG capabilities, Gearhouse Broadcast Gulf has addressed the growing demand for access to a privately owned state of the art portable OB solution throughout the Middle East," said Eamonn Dowdall, managing director of Gearhouse Broadcast Gulf. "The region has become a major media hub and is now a booming market so we're delighted to be able to offer it access to the latest in production solutions."
Hitachi Kokusai Turkey
Hitachi Kokusai Electric Turkey (HKT) is headquartered in Istanbul, Turkey and also has a manufacturing facility in the Tuzla free trade zone near Istanbul.  From its 8.000 square metre production facility, HKT designs and manufactures some of the broadcast market's most cost-effective high-end products, systems and solutions, serving customers in the international broadcast industry and government institutions.
In the past three years the facility has grown strongly to become one of the largest OB vehicle design and manufacturing facilities in the region. HKT customer list extends far beyond the Middle East region: the company serves customers in Europe, MEA and Asia
Hitachi's strategy has been to create a centre of excellence in OB facility creation and broadcast systems integration all under one roof within the Tuzla free trade zone. The company has brought together many of the broadcast industry's most creative minds: their skills stretch from strategic conceptualization and systems integration, through to specialist coach building capabilities.
HKT utilize a blend of their own broadcast system components and also equipment from many of the world's leading technology vendors. The objective is always to blend the perfect combination of production tools to meet the specific requirements of each customer.
HKT design, develop and manufacture mobile antenna systems, controllers and SATCOM components, which are integrated into customized DSNG (Digital satellite news gathering ) vehicles, special purpose vehicles or Outside Broadcasting trucks that the company designs and manufactures within its facilities.
HKT's DSNG systems are based on the Mercedes Vito, Sprinter and İveco vehicle models, weighing up to 7 tons. Vehicles from other leading car makers can be converted as well. For system integration purposes, the company uses its range of antenna systems, Satcom equipment and components, making turnkey solutions economically efficient.
HKT's broad base of experience in the design and systems integration of high-end video production studios is used to convert large vehicles into mobile digital studios (OB vans), giving broadcasters all the mobile production and broadcasting capabilities they need. HKT compact OB Vans can support up to 16 HD cameras. The company specializes in developing smaller, more versatile and cost effective OB solutions.
OB-BOX is a fully featured modular OB facility, which is delivered to the customer and then mounted onto a vehicle's chassis using a proprietary fixing kit.
OB-BOX comes in three different configurations which support four, eight and 12 production cameras. The option of a booth side extension adds further flexibility to unit sizing.  In addition, an ability to connect two OB-BOX units in a cascade configuration adds more versatility and facilitates many different sizes of OB unit up to 20 camera mobile facilities.
Each OB-BOX is specified, designed and manufactured at Hitachi's Istanbul-based facility to meet the customer's OB needs. The unit provides all of the video, audio, transmission and infrastructure capabilities needed to create a stand-alone outside broadcast facility. The technical specification of the unit is such that it will support any broadcast signal from serial digital to HD and 4K production.
Alongside satellite and fiber connectivity, the units integrate powerful Ethernet connectivity, which provides the production team with internet facilities on site. At the same time, OB-BOX features sophisticated Cloud capabilities, which enable the users to send 4K content back to the broadcaster's production centre quickly and easily.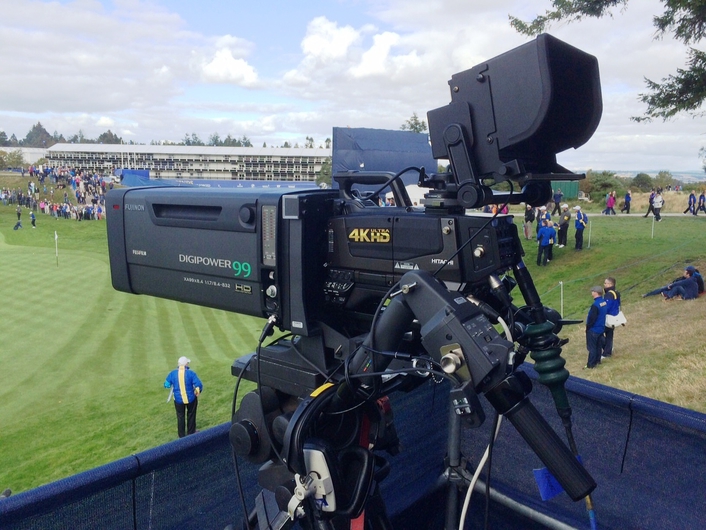 Broadcast system cameras
Alongside its OB facilities, Hitachi Kokusai supports one of the broadcast market's largest ranges of system cameras. These include the SK-UHD4000 4K Ultra-HDTV broadcast camera system
And the newly developed SK-HD1300  Series  which are fitted wıth 3G  2/3 ınch 1080p natıve  3MOS sensors. Also available is Hitachi's Z-HD6000 1.5 G 1080i portable dockable HDTV studio and EFP cameras providing 1100TV resolution.
All these cameras feature High Dynamic Range (HDR) and real-time lens aberration correction (RLAC) functıonalıty.
Further versatility is offered by Hitachi's new DK-H200 3G 1080p Box Type POV camera, which is well suited to multi camera broadcast applıcatıons.
All Hitachi cameras feature the company's enhanced trıax and fıber transmission technology, which significantly extends cable length possible between camera head and control unit, by around 4000m wıth hybrıd fıber and 1800m wıth triax cable. 
Company details:
Hitachi Kokusai Electric Turkey
Palladium Ofice, Halk Caddesi No:8/A
Atasehir 34746 Istanbul-Turkey
 
Branch office & Factory:
Hitachi Kokusai Electric Turkey
İstanbul Endüstri ve Ticaret Serbest Bölgesi
Akif Kopuz Cd. No:3
Aydınlı-Orhanlı Tuzla 34957/ İstanbul
Tel: +90 216 394 29 08
Fax:+90 216 394 29 09
E-mail:cemal.yilmaz@tr.hitachi-kokusai.com