Connected Live Events
Conferences, sporting events, concerts, festivals, and even television shows are connected. Today's trend for live events and live video productions is to extend the audience beyond the walls of a stadium or a concert hall, beyond a studio and spread it to the largest audience possible. Engaging fans and viewers, not only on site, or those in front of their screens, but also the one watching videos on any existing device, is a new and widely used way of production.
Icon Broadcast Group, a full service audio-visual production for broadcasting, creative audiovisual productions and video productions for events, operates the live production of the VESTROCK Festival held in Hulst in the Netherlands. The event's focus is mainly about music, art & science and mixes together various kinds of music, performing arts, theater, street art, illusionists and more….a real place of expression for artists. Nominated ten times for the European Festival Awards, the number of visitors increased tenfold since the start in 2010 and keeps growing.
Connecting the Audience
When you think audience engagement, social media pops automatically in your head. What social media bring today to live productions is interactivity with the audience. You reach the audience in real time and you get an instant feedback from followers. Adding social media into a production is not that easy and generally involves high costs. LiveXpert is one of the actors in the video industry who thought about user-friendly, affordable and intuitive solutions.
Icon Broadcast Group needed a system, easy to set up, easy to dematerialized, easy to use and most importantly easy to give to use by anyone. LiveCG Broadcast is available in two versions. LiveCG Broadcast SDI connects with any video mixer and fits in all workflow configurations. LiveCG Broadcast IP connects with a NewTek TriCaster through IP connection and supports NewTek NDI protocol for complete production over IP.
LiveCG Broadcast offers an exclusive tool called Social Hub. The Social Hub is an application to be installed on an external computer, giving the ability to connect with a wide selection of social platforms, to receive feeds from them, monitor them, and send a selection of the messages to go live!
Social Hub supports connection to Facebook, Twitter, Flickr, WhatsApp, Skype, Instagram, Line, RSS feeds, emails accounts and even SMS through its GSM modem. Social hub has also a connection to Open Weather Map to select which weather information per city to be displayed by LiveCG Broadcast.
During VESTROCK Festival, the Social Hub was receiving RSS feeds and incoming messages from Twitter® and Instagram®. These feeds were sent live on several big LED screens on site. The LiveCG Broadcast was also used for the "Meeting Point", as a service, for broadcasting messages about children who lost their parents. Managed by the Festival's organizers themselves, messages from What'sApp® were sent directly to the big screens without the need to go though validation by the PR officers who were in charge of the Social Hub.
Mobile Production on site
The Social Hub was used in two different ways and managed by two different teams. Jan Warnier, CEO of Icon Broadcast Group, and his team did an unexpected and brilliant thing for this festival live production. "To gain space in the control room and to make the production mobile and more versatile, we used IT virtualization techniques. We virtualized several systems on one physical server, including the Social Hub, the social media management system integrated in LiveCG Broadcast."
Therefore, the incoming messages from Twitter® and Instagram® were managed and sent live by people who could be located anywhere all around the venue.
Managing the messages in the Social Hub installed on a virtual machine made it possible to have the user interface available on any device and anywhere. The persons in charge of the Social Hub could manage and have a complete control over the Social Hub from any computer or any iPad, wherever they were on the festival's site.
"When producing live, it's important to have everything ready before the show", says Jan Warnier "but most importantly not to be disturbed by any unexpected element during the live operation. With LiveCG Broadcast, my graphics and the social media interface were completely independent from my video mixer."
On another "virtual machine" they installed an android Operating system with WhatsApp® application to receive text messages from the lost and found meeting point. Programming the Social Hub, along with other applications on a virtual machine, made all these applications accessible out of the OB van, on any device, even on an iPad, from anywhere, in the Festival PR office or on the field.
Live Production over the Network
LiveCG Broadcast, is also a multi-layer graphic generator from the LiveXpert line of products. It is a powerful system in a 1U rack with a dedicated interface to generate all kinds of graphics, crawlers, banners… to implement into a live production. "Another advantage of LiveCG Broadcast is that you can do your graphics and text during live production without interfering with it. You don't work on the system, you work on the network!"
The graphic elements in LiveCG Broadcast are called from a simple Excel spreadsheet making it so much easier to manage live production content, as it can be changed without interfering with the live production operations.
For the VESTROCK festival, Icon Broadcast Group used a NewTek TriCaster 8000, the most powerful system of the TriCaster ProLine. The TriCaster was the centerpiece of the control room of the festival's live production. The video mixer was receiving feeds from 12 cameras, including IP camera's installed above the stage to shoot scenes from the top.
Jan concludes that "Being able to work on the graphics, to make last minute changes, and connect with social media, without interfering with your live operations, and do all that over the network, these are just a few key points that make LiveCG Broadcast a professional tool, available at a consumer price!"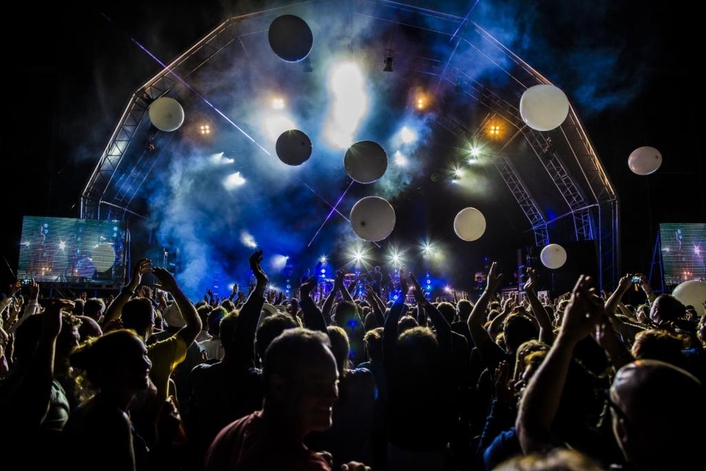 Yes, Icon Broadcast Group has got some special skills and expertise in IT. Dematerializing LiveCG Broadcast made the system more versatile and easily adaptable to the festival's needs. In the end it gave to thousands of remote fans the opportunity to join the crowd on site, and be a complete part of the VESTROCK festival.