Panorama at FINA World Championships in Kazan
The anticipated worldwide audience of 4.5 billion closely following the action. Host Broadcaster for the 17 day Championship is the European Broadcasting Union (EBU). "We have an overall team of 300 people working in all areas, obviously production is the biggest one and we are working together with our colleagues from Spanish television TVE for Swimming and Synchronised Swimming production. Our   Russian partner, Panorama, provides us services for TV-production of Open Water Swimming, High Diving, Diving and Water Polo," said Said Franck Choquard, managing director, Eurovision Production Coordination SA (EBC). Panorama utilises a great many specialist cameras, including HSSM for each venue, micro cameras, polecams, CableCam 1D and 2D. CableCam 2D is used for Swimming and Synchronised Swimming showing the interior space of the stadium and the athletes, while a robotic system based CableCam 1D with three remote cameras moves over high-boards. Four Phantom v642 cameras add to the beauty of the water sports, capturing splashes of water and athletes faces in their plasticity and fluidity.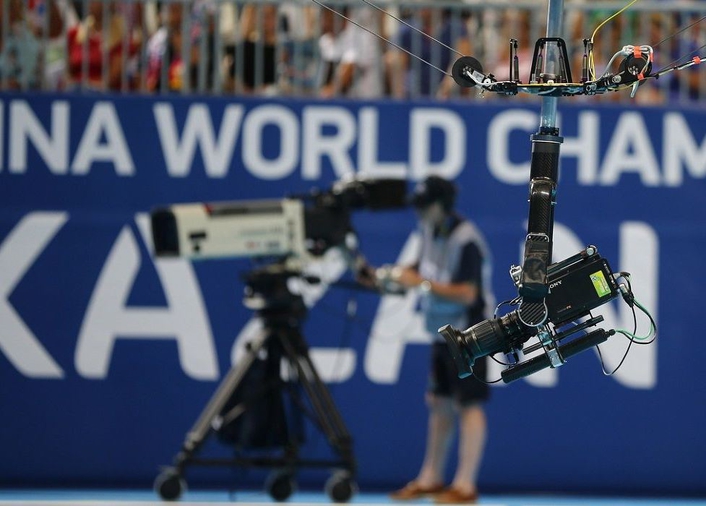 "Our plans call for four of our trucks to be used for the Host Broadcaster operation, while a further three will serve the RHBs. In all, we will be using over 160 of our personnel for this high profile event", Kiknadze said.