International Swimming Federation FINA Implements Slomo.tv Systems for Video-refereeing
After testing various solutions slomo.tv was selected as the preferred technology provider.  The company markets complete video-refereeing solutions, including specialized servers and cameras, and has extensive experience in video-refereeing in a range of different sports.  The result of long-term cooperation between FINA and Slomo.tv is the creation of a complete solution for water polo by adapting Slomo's videoReferee®-SR system and developing specialized mini vR-Cam cameras for use in water sports.
"Slomo.tv is actively working with international leagues and federations to meet the needs of every sport and to provide affordable systems in response to the growing demand" said Igor Vitiorets, CTO of slomo.tv.
According to the requirements of FINA Technical Water Polo Committee, the hardware component of the video-refereeing system should include a compact server capable of supporting eight channels of incoming video with 3G resolution (1920x1080 50p) and intuitive, easy to install cameras.
FINA's Technical Water Polo Committee chose Slomo's videoReferee®-SR system with mini vR-Cam cameras.  The compact 1U system meets the League's technical requirements for supporting eight 3G channels, and in addition it enables simultaneous 4-channel search and playback at various speeds. To suppress the water light glares and improve image quality the cameras include polarization filters.
The video-refereeing system was pre-tested in real competition environments at the FINA Men's Water Polo World League Super Final 2019 tournament in Belgrade.  As part of the testing, slomo.tv's specialists provided training. In a short period of time, the referees gained sufficient theoretical and practical experience to work the system at the matches with minimal support.
"Water polo is an exciting and dynamic game that has a lot of fans around the world watching it. The implementation of a customized video-refereeing solution that takes into account all peculiarities of water polo will improve this Olympic sport, and make it even more attractive," said Andrey Kryukov, FINA Water Polo Liaison.
The positive feedback from the referees on the use of the system led to the first ever full-scale use of the video-refereeing system at the 18th FINA World Championships 2019 in Gwangju, Republic of Korea.  For two and a half weeks, videoReferee®-SR was used at eight men's and women's water polo matches each day. Since the pool sizes for women's and men's water polo matches are different, it is necessary to relocate the cameras and set up the server quickly. The compact size of the cameras and their ease of installation was a big advantage.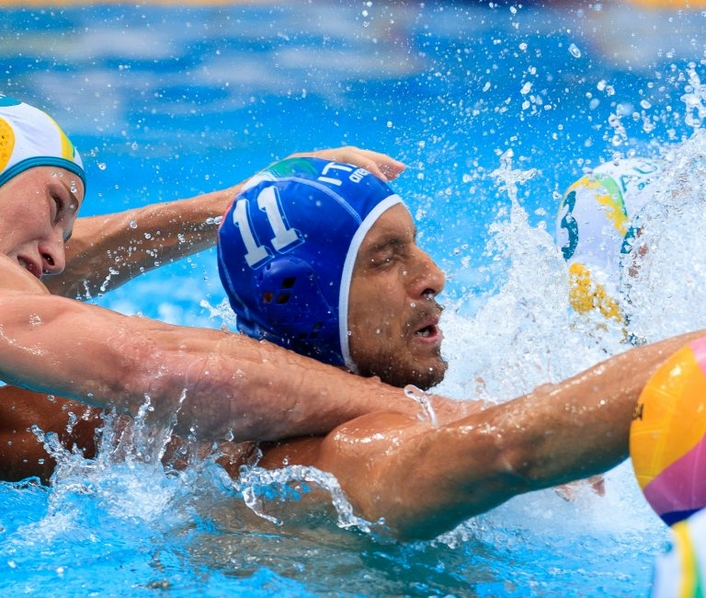 "Preliminary tests allowed us to develop the basic principles of the video-refereeing workflow for water polo: well-established communication between the video referee and the referee on board, rapid preparation of video material for viewing and smooth operation of the system and cameras. Throughout the match, the video referee, in conjunction with the operator, works with the system and monitors all in-game action. At the request of the referee on board, he prepares footage for viewing in the shortest possible time. On average, it takes between 3 and 10 seconds to prepare and analyze an incident with videoReferee® systems, which completely satisfies the referees," commented Alexander Kalinin, slomo.tv's technical specialist.
Video-refereeing has become an integral part not only of the competitions among main national teams, but also among junior ranks. videoReferee®-SR was used at the FINA World Women's Junior Water Polo Championships 2019 (Funchal, Madeira) and FINA World Men's Junior Water Polo Championships 2019 (Kuwait). Today, the International Swimming Federation FINA and slomo.tv continue their active cooperation on the implementation of video-refereeing in water polo.  
About slomo.tv
Slomo.tv is a producer of innovative server-based solutions for multi-channel 4K/3G/HD slow motion replays, recording for NLE, video-refereeing and VAR.
The company systems feature unique scalable architecture, user-friendly interface, compatibility with widely used non-linear editing systems, and the ease of new technology implementation into existing TV production structure and sport venues.
Slomo.tv have successfully introduced complete lines of high quality multi-channel professional video production servers and brought to market a number of effective solutions from Ripley Plus - the unique all-in-one server incorporated into standard replay console; compact 1U Simple RIII to powerful 4U Dominator AT/12G, perfectly suited for large-scale 4K/3G/HD TV production and eSports.
The videoReferee® systems for on-the-fly reviewing of questionable moments have become an integral part of many sport arenas and are widely used in many sports.