DiGiCo SD10 provides failsafe control for Hungarian FINA World Championships
"FINA was responsible for the entire AV installation for the event and they wanted a redundant, reliable, high-end system that could also be used for various events after the games," explains Imre Makkay, Chromasound's Sales Director, who was in charge of system design. "As well as DiGiCo, we are also suppliers of Meyer Sound loudspeaker systems, so it was obvious that we could provide them with the correct overall solution."
For the main venue, Imre chose the SD10 because he wanted to supply a console that did not compromise on capacity and had the added benefit of the ability to connect it to an SD-RE redundant engine.
"This was a major selling point," he says. "In the unlikely, worst case scenario of multiple faults in the main mixer, still having control over audio via the SD-RE is a brilliant feature. Because this was such a sophisticated system, the only right decision for the stage racks was the SD-Rack. We supplied four of them, each with 40 analogue inputs, 24 analogue outs and eight ins and outs, via both AES/EBU and (HD-)SDI. The latter was used as a convenient connection from and to the OB van. We also had an Orange Box for Dante integration."
An additional, smaller venue was equipped with its own sound system, fed via an SD9 with two D-Racks, also on an Optocore loop.
"This not only gave the required redundancy," continues Imre, "but by adding an SD8, that was brought in to the equation as a spare, three smaller systems could be built, as anything could be paired with anything else."
During rehearsals, which were the water polo European Championships' Final Six event, all technical equipment was located in the pool area. Later, this was considered too visually obtrusive and it was moved to a glass-walled room adjacent to the pool area.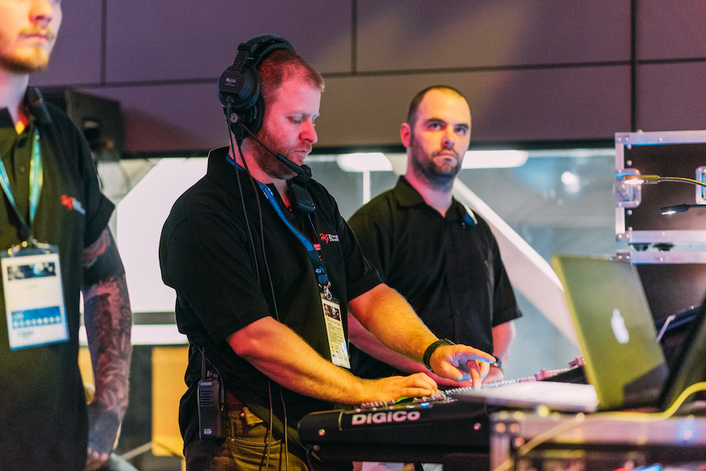 "Although mixing sound from a different space is not the most convenient scenario, system-wise it didn't pose any problem," says Imre. "Of course, the equipment all being on an Optocore loop helped a lot. There was one SD-Rack in the FOH booth, two in a server room, where all the optics met and was the connecting point to the OB van. There was another SD-Rack on the far side of the 50m pool for inputs from the judges, announcers, DJ, etc. We used most of the 150m optical cable to get there, so using Optocore got an additional gold star."
The organizers commissioned HG Event Technics, an event management company based in Budapest, to operate the system during the Championships, with Balázs Majer engineering throughout.
DiGiCo's James Bradley was on hand during the design process and a week before shipping and installation Márton Sós, sales engineer / brand specialist for DiGiCo at Chromasound, attended two days of DiGiCo training with DiGiCo Product Specialist Dave Bigg.
"That was enough to allow us to get the setup right on the first try," smiles Imre. "And as Mr. Majer is an experienced sound engineer, we only needed an hour and a half to show him how DiGiCo is a bit different from other consoles; after four days of using the console on site, he phoned me just once with a question on macro programming."
Imre declares that both the client and Balázs Majer were happy.
"The FINA organisers got the system they wanted, as they wanted it, and Balázs got a great desk that is easy to operate," he concludes. "He told me that he likes the fact that there was a redundant engine as a backup and that he knew he wouldn't be needing it. He also said that the smart keys on the SD10 were brilliant for reaching anything he wanted and could think of: group assigns, underwater speaker mute status - and a Big Red Button that kills all audio except the fireman's mic!"