Courteeners' Concrete Love for Robe
The band's new studio album "Concrete Love" was also released a few days prior to playing the two high profile gigs to great acclaim and enrapt audiences, and they also announced a major UK tour for the autumn … so it was quite a big week for everyone involved.

Hill wanted to ramp up the excitement and make the Reading and Leeds appearances as visually fabulous as possible, and designed a high impact specials lighting package which was supplied by UK rental company Siyan. Siyan also supplied the 'house' lighting kit to both NME / Radio One stages at two sites.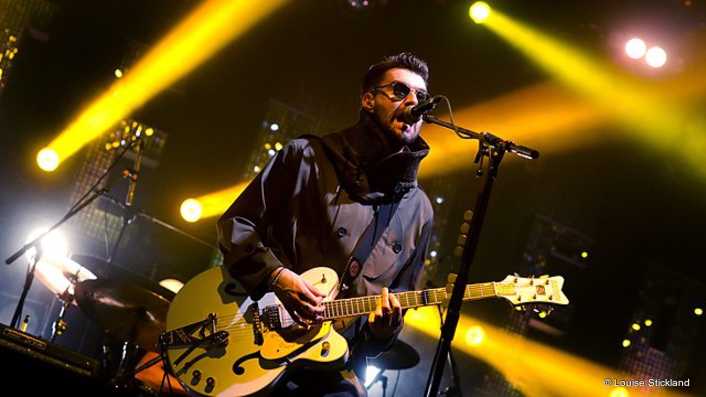 He decided to recreate elements of the big tungsten feel that featured very successfully on the last tour, as well as experimenting with some new potential aesthetics for the upcoming tour. Apart from that, he also wanted to ensure that the Reading and Leeds shows – essentially two high profile one offs – had their own distinctive resonance.
He worked closely with lead singer Liam Fray to design a set of large glittery letters hung upstage spelling out the band's name, "I really wanted to add a touch of individuality, without resorting to video with these," stated Hill, adding that while going with the glittery letters involved some risk, in this case, the look they created was spot-on.

For their 'touring' package he specified 8 x Robe MMX Spots and 16 x ROBIN Pointes – all positioned on the floor. To be hung in the air as part of the 'house rig' – as a headliner request - he asked for another 10 MMX spots, which were installed on both stages.
He chose Pointes – the first time he'd used them - because he needed a fixture that could be used as both a profile and a beam effect – there was no space onstage for two sets of lights. Ten ROBIN Pointes were in the rear-midstage position, mounted on top of towers rigged with a total of 10 x horizontal 6-lamp bars each containing CP62 PARs fitted with thick diffusion filters that effectively transformed them into large soft-light sources. Another 6 x Pointes were used at the downstage sides in similar fashion.
He says of the Pointes, "The beams were really consistent, super-crisp and sharp right along the optical path and reaching to the back of the tent. They were fantastic for big, aerial beam and gobo effects".  He also particularly liked the linear prism effects and thought it was great as a beam / profile hybrid and "Very good all round".

The MMX Spots he has used before on several occasions and they are currently one of his favourite moving light spots of its size. On the last tour he's also used them, and they have become a 'must-have' creative tool.
"They are great – compact with excellent colours - and very punchy!"

He's also impressed with the whites and CTOs along with the pastel colours. These were fundamental to the look and feel of these festival shows and provided a tungsten thread connecting back to the previous tour lighting … and looking forward to the autumn shows which promise to develop modern tungsten oeuvre further.
The whole floor package – the Robes plus all the other lights - for Reading and Leeds was designed with Jez Johnstone at Siyan to roll onstage and be operational within a 20 minute changeover slot, a strategy that worked very efficiently.

He programmed and ran the show using a ChamSys MQ100 console and playback wing, and Siyan also provided two dedicated crew who worked with Hill on both shows.