alt-J Tour U.S. with Custom LED Solution from XL Video
The tour, in support of alt-J's second album, 'This Is All Yours', visited a variety of indoor and outdoor venues around the US including a show at Colorado's Red Rocks Amphitheatre.
The video design, created by Jeremy Lechterman and Jackson Gallagher from FragmentNine, uses horizontal rows of LED, interspaced with gaps which can be used with lighting.
At the O2 show, XL Video supplied a solution using their regular touring frames, and special brackets.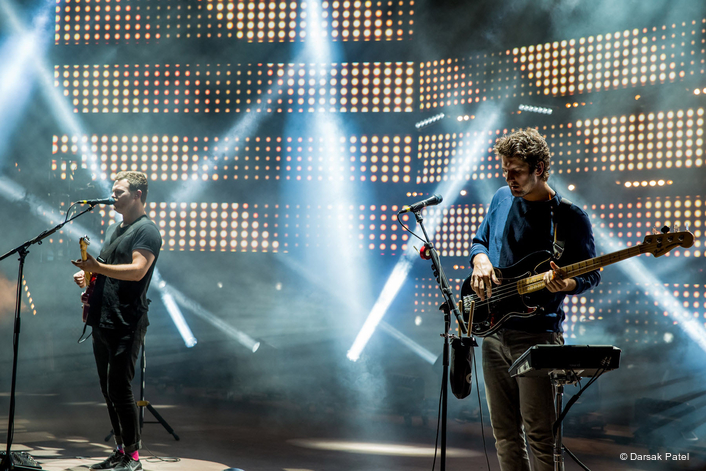 "For the U.S. tour design, the designers wanted to reduce the size of spaces between the LED rows," said XL's U.S. Touring Projects Director, Gareth Jeanne. "As our touring frames have a set one-tile-height spacing, we needed to create a new custom solution for this leg of the tour."
For the centre section, behind the band, the horizontal LED rows were mounted on to five dollies, built by Upstaging, with specialist spacer brackets, made by XL Video, used to attach XL's indoor/outdoor ROE Visual MC-7 LED.
This solution was used for both headline shows and some festivals, with the dolly arrangement also enabling a quick rig and de-rig and the ability to wheel the LED into place.
For the show at Red Rocks Amphitheatre two additional LED sections were made, each eight tiles wide and four high, extending the rows out to either side of the centre, and filling the wide stage. XL Video's custom spacer brackets were also used for these sections. Eric Escujuri was the LED technician for the shows, under the direction of Crew Chief, Marc Callaghan.
Playback content for the LED screens was served by production's own MBox media servers, with graphics also created by the team at FragmentNine. Darsak Patel was the technician for both media servers and IMAG.
Gareth Jeanne continues: "We're very happy to continue our relationship with Production Manager, Bennie Brongers; and Jeremy and Jackson from FragmentNine. Their unusual show design presented us with some challenges, but by working with our specialist LED team in Belgium, plus the team at Upstaging, we were able to supply an elegant custom solution which both looked great, and was easy to handle."