X•One — Single operator live multicam production
Today's consumers expect access to more live events than ever before. And with an increased number of platforms available to users, the definition of a content creator has changed. Now it's not only traditional broadcasters but also brands, media companies, social media and internet platforms that need to produce broadcast-quality live content using smaller-scale resources. With more demand for live content, smaller-scale events like musical festivals or niche sports are more important than they've ever been. Whether it's a new content producer setting up for the production of a new programme or a traditional broadcaster looking to deploy a small production unit for a niche sport, the toolsets of live production technology available to smaller-scale events have traditionally been limited.
To provide the toolset that you'd expect at the largest productions and deliver the highest-quality content from a smaller-scale event while saving operating costs, EVS has introduced X•One – a unified live production system. A single X•One operator is able to ingest and control up to six live cameras before mixing audio and visual feeds as well as create replays, add graphics and output it – either for broadcast or directly for web streaming. X•One places all the capabilities of a broadcast-quality control room into the hands of a single production operator that is controlled from the solution's easy-to-use touchscreen.
The brand-new product within EVS' family of live production solutions combines EVS' market-proven fast and efficient live production technology with new capabilities made possible by its GPU-based software-defined architecture. X•One delivers all of the live production capabilities that have until now only been available within large-scale, resource-rich live workflows. It offers an unrivalled level of intuitiveness and provides variable functionality depending on the type of application it's being used for – what we call 'contextualized production.' A personal operating interface X•One can be set up to ingest and control six camera feeds as well as allow for the media import of other files in any format.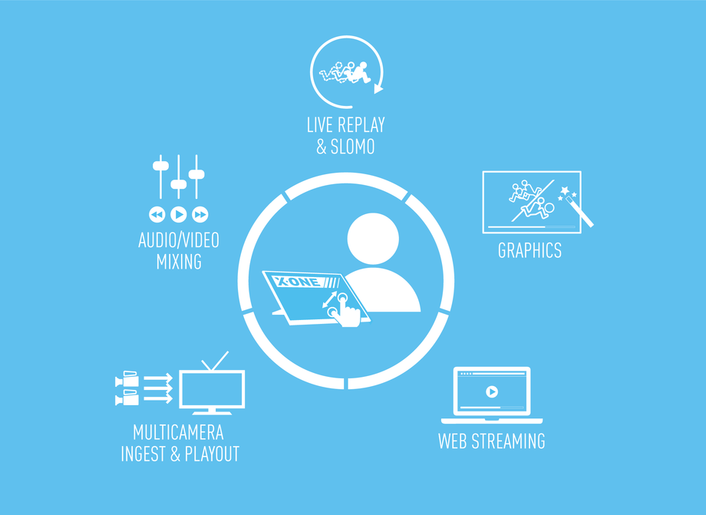 The way that production is controlled is then down to the system's single operator who can take advantage of its contextualised user interface. The software-defined nature of X•One means it adapts to the type of production on which it's deployed. Something that wouldn't be possible within a traditionally-configured hardware-based solution, dedicated interfaces are available for specific sports or entertainment productions. These highlight specific features and remove ones deemed unnecessary for that sport or event.
For example, deploying the system for basketball will see the shot clock graphic and main wide camera angle prioritised for the operator to easily switch back to after inserting a live replay. A setup for cricket on the other hand will have two – maybe three – camera angles prioritised for easy live switching. A music event can have a completely different setup to a sports-focussed one. Replays and graphics won't be needed during a live broadcast so won't be a priority on the screen for the operator. It's more likely that all six camera feeds will be needed throughout the broadcast so all angles will be more easily accessible to the operator. This ability to adapt to its production puts X•One's users in a unique production environment where their live workflow is tailored to their needs.
A set of these dedicated UIs will be available on the EVS cloud and can be quickly downloaded and installed ahead of any production. GPU-based processing X•One is the latest step in EVS' deployment of solutions that bring together its industry-renowned speed and reliability with its newly-developed software-defined architecture, which is built on an innovative foundation of GPU-based technology. First implemented into DYVI, EVS live production video switcher, the technology allows for distributed processing that can scale as required and be positioned wherever it's needed, enabling more agile production. The software-defined architecture has also now been implemented into the Xeebra VAR system and will form the foundation of several other products currently in development.
This architecture that X•One sits on is key to unlocking more creative capabilities as users customise and personalise their live production workflows, creating more efficient processes. The ability to utilise its software-based architecture and pre-configure the system is one of its biggest benefits to users. Things like graphics packages can be designed and implemented ahead of production so time isn't wasted and operators can concentrate on the more creative aspect of outputting live programming.
Customisable and expandable X•One natively supports AIMS-compliant uncompressed IP ST 2110 feeds and further assists production operators with functions that can be deployed through a number of apps and plugins. This means the system can be configured and continually added to as needed. The system's architecture can also be easily configured and expanded through input/outputs as well as deliver UHD-4K formats. Software upgrades available in Q1 2018 will provide users with an even wider range of applications and features.
And because it's built on a foundation of EVS technology, X•One provides the speed expected in a production system and the reliability essential in the live environment. By combining new technologies with the reliability of solutions that EVS is known for, X•One is the next step in creating future-ready live production systems which deliver the highest-quality production solutions to the growing market of live content producers.
X•One has won the IABM Award in the Category Acquisition and Production