Straight to air with XDCAM air
Sony's XDCAM air Professional Cloud Service for News Production delivers live streaming and/or file transfer directly from the field and combines this with advanced cloud-based tools to instantly connect your news production team with the day's hot stories.
What's the story?
XDCAM air opens up a world of exciting new production possibilities, enabling a secure, seamless wireless workflow from shooting to studio. Build stories fast, with direct access from the studio to files on camcorders or smartphones out in the field.
Use XDCAM air as a standalone system – or integrate it seamlessly with your studio-based workflows to create compelling content, quicker and more cost efficiently than ever before.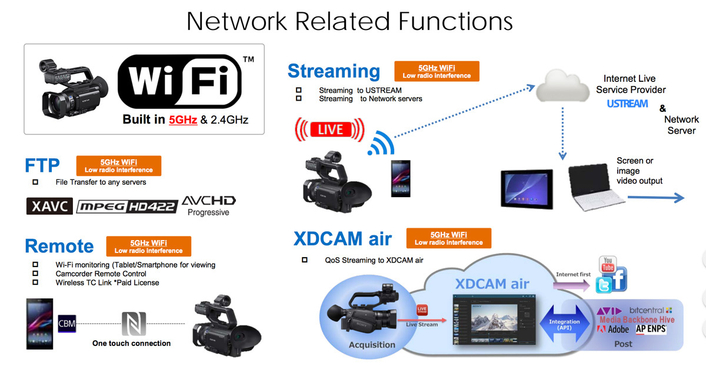 Share content fast
XDCAM air automatically uploads proxy footage to the cloud from multiple camera operators in the field, so editing can start immediately. Uploaded content can be accessed securely from any location.
News teams can even start logging clips while shooting's still going on, saving even more valuable time when a story's breaking.
News in your pocket
XDCAM Pocket turns your phone into a cloud-ready XDCAM camcorder. This intuitive mobile app streams content shot with smartphones back to base, using sophisticated QoS technology for better-looking pictures and fewer dropouts over cellular LTE networks.
Utilize the transmission method best suited to your environment: wireless, cellular, dual-link cellular, AVC (H.264) and HEVC (H.265*). XDCAM air supports point-to-point and multi-point live streaming, file transfer as well as live streaming or file transfer directly to social media.
Get to air even faster
Stay ahead of the game. XDCAM air sends story information and planning metadata from your Newsroom Computer System straight to compatible Sony cameras out in the field.
After shooting, everything's ingested automatically to your Media Asset Management (MAM) system. So you can save time, manual effort – and money – to build stories faster and more efficiently than ever before.
Open for business
Use XDCAM air through its own web interfaces – or integrate via open API into your existing production environment.
XDCAM air offers a fully open API that supports interfaces with commonly used News Room Computer Systems, News Production Systems and Ingest Systems.
We also offer full panel integration of our CMS with Adobe Premiere Pro so that browsing and selecting content from XDCAM air can be performed directly from the editing software.
Sony's XDCAM air Professional Cloud Service harnesses the best of cloud and wireless streaming technologies to improve your operations, maximizing your production productivity to let you start telling your stories as they're happening. 
Easy Search & Find
The XDCAM air Metadata license cuts down on search times by pushing NRCS planning data directly to the camera. Captured footage is subsequently tagged in the camera with relevant metadata for easy search and find.
XDCAM air's Content Management System (CMS) sits in the cloud facilitating search, browse, logging, storyboard creation and publishing to social media from anywhere – whether you're in the field, in a hotel room or at the station.