Music Blueprints – a comprehensive online guide to 3D audio recording
"Our greatest experiences of music are usually live moments in which we are completely immersed in sound and the situation – whether at a festival, a concert or even a party," says Véronique Larcher, Director AMBEO Immersive Audio. "With AMBEO Music Blueprints, we are showing how to record and mix music with the same grandeur and natural, spatial sound as in the original performance."
Three Blueprints – AMBEO for Loudspeakers, AMBEO for Binaural and AMBEO for Virtual Reality – provide straightforward information on recording set-ups and microphone positioning, on mixing with additional spot microphones and on delivery and playback for a 3D listening experience.
"AMBEO for Loudspeakers" Blueprint
This blueprint takes a close look at the new main microphone set-ups that create truly immersive 3D audio recordings. The AMBEO Square, the AMBEO Cube and the Lean AMBEO Cube all introduce a height elevation that fully envelops the listeners in sound when a 9.1 loudspeaker set-up is used for playback.
The AMBEO Cube creates enveloping 3D audio for 9.1 loudspeaker playback
"For a 3D audio recording, the usual stereo pair of main microphones is replaced by the AMBEO Cube or the AMBEO Square," says Gregor Zielinsky, tonmeister at Sennheiser. "Just as with standard stereo recordings, the sound of the main microphones can of course be enhanced by employing spot microphones – the AMBEO Blueprints explain what aspects to pay attention to for best results."
 
An essential tool for 9.1 set-ups is the MKH 800 TWIN, an RF condenser, dual-diaphragm microphone that feeds the output of both of its capsules to the mixing desk or digital audio workstation (DAW). Thus, recordists can seamlessly adjust the desired pick-up pattern on the mixing desk/DAW during the recording or in post-production. To make the handling of up to nine main microphones easier, users can download the free "MKH 800 TWIN Pattern" plug-in, with a dedicated tutorial video showing how to work with the plug-in on a DAW.
Rounding off this section, recording experts Małgorzata Albinska-Frank and Paul Geluso share their recording philosophy with the Blueprints visitors. Paul Geluso has been using the AMBEO Cube ever since the MKH 800 TWIN was released: "The cube delivers a very exciting 3D sound image upon reproduction in an immersive listening environment. It has the potential to deliver larger-than-life virtual sound images, spaciousness, and sound quality."
"AMBEO for Binaural" Blueprint
An 'old recording friend' rediscovered: AMBEO for Binaural uses a dummy head such as the Neumann KU 100 for recording exciting 3D sound and enhances the audio with spatially processed spot microphones. This blueprint explains the new binaural mixing workflows.
 
"AMBEO for Binaural is a straightforward way to produce 3D audio for immediate enjoyment by listeners. All they will need is their standard stereo pair of headphones – they will be utterly surprised to find what their headphones are capable of with 'AMBEO for Binaural' recordings," says Véronique Larcher.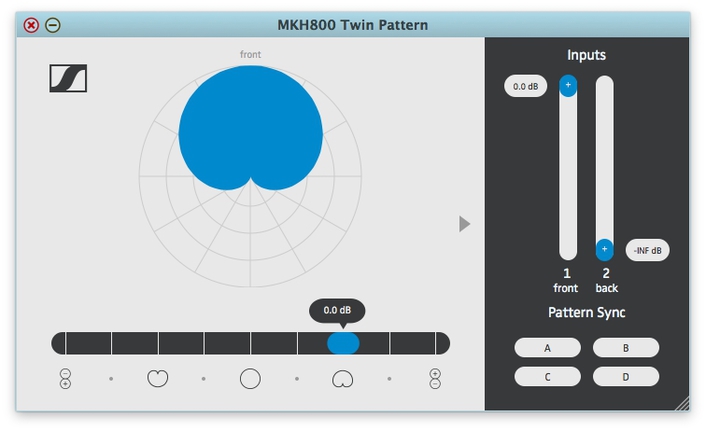 The free "MKH 800 TWIN Pattern" plug-in makes the handling of up to nine main microphones much easier
Again experts share their knowledge with the Blueprint visitors: Radio France lets readers take a look behind the scenes, and Phonomatik Lab describes how they fell for the KU 100: "The very first time I listened to the KU 100, the sound was so organic that I thought there was some kind of mistake and that my headphones had somehow blown off. Balanced tones, respect of the dynamic, musicians positioning – everything was there. I had finally found the secret weapon I had been looking for."
Studio and live sound engineer Aziz Berk Erten employed AMBEO for Binaural not only to make an incredibly spatial 3D live recording of an alternative rock band but also to give the band a natural sense of being together with their audience. Just as the recording contained the microphone signals from the band and those of the Neumann KU 100 dummy head, so did the monitor mix. He comments: "Mixing the band's mics with 'AMBEO for Binaural' created a feeling of immersion that could not be achieved with typical ambiance mics. It was a nice surprise to see how using the KU 100 kept the musicians from taking off their in-ear monitors to listen to the ambience."
 
Aziz Berk Erten assessed that his binaural stereo mixes of the concert were 60% spot microphones and 40% KU 100. He adds: "As with every piece of quality equipment, you only hear what the KU 100 is doing when you take it out, and what it is doing is very impressive. The AMBEO Music Blueprints are very good for people to understand the workflow and get started."
"AMBEO for Virtual Reality" Blueprint
Whether exploring immersive content on advanced VR goggles and apps, or with mobile VR goggles playing facebook 360 – the experience is truly immersive only when the audio is, too.
A video explains how to use the MKH 800 TWIN Pattern plug-in
This is where Sennheiser's recently launched AMBEO VR Mic comes into play, with the AMBEO for Virtual Reality Blueprint showing how it can be used to create 360° recordings. It also explains how the microphone works, where to best position it, and how to set the recording equipment. Being an Ambisonics microphone, the AMBEO VR Mic provides a channel-independent representation of the full spherical sound field, which can be decoded to any existing or future loudspeaker layout and even to headphones using a binaural renderer.
 
Audio recordings can rely on the signals of the AMBEO VR Mic alone, or can be enhanced with additional spot microphones or lavaliers that capture instruments or clear speech and song in reverberant environments. This Blueprint explores panning tools for mixing in additional audio sources as well as options to binaurally render the Ambisonics channels for 3D headphone reproduction, and offers promotional codes for these plug-ins. Also provided is a download link for the free Sennheiser AMBEO A-B format converter.
The AMBEO A-B format converter is available as a free download
Véronique Larcher sums up: "Just as the production of immersive recordings and streamed content is a growing craft, so the AMBEO Music Blueprints will grow, becoming a hub for comprehensive information on 3D immersive audio, with a wealth of useful tips and tricks from sound experts across the globe."