Live Production at European Short Course Swimming Chamgionships
"The 2015 European Short Course Swimming Championship was, for the first time in its history, held in Netanya, Israel earlier this month," reveals Bezalel. "We were brought in to deliver a live OB, and supply 20 international EBU broadcast partners including the BBC, ORF, NOS, SVT and TVE with coverage of the five day championship.".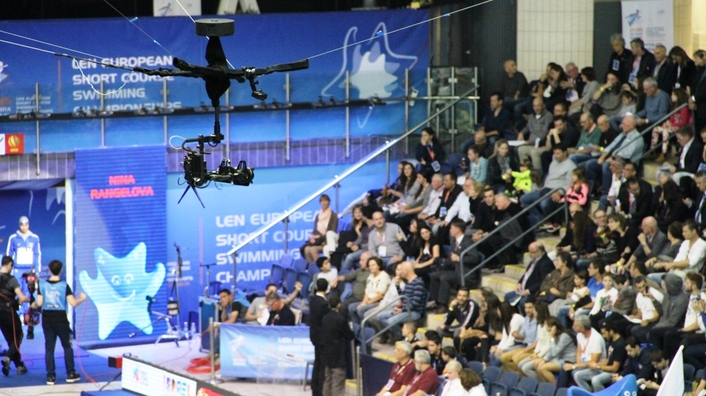 "In order to cover every angle of the meet, both above the water, and below, we devised a 14 camera setup. That included two super slow motion camera positions, a further two underwater PTZ turn cameras, located at either end of the pool, as well as a robotic dolly system and an overhead camera.  
"The Blackmagic Micro Studio Camera 4K was rigged in a 3D motion robotic cable system, developed by DynamiCam, and suspended above the Olympic size, ten lane facility by a series of light weight cables and winches. This 'pool top' view of the action is a broadcast pre-requisite of the European Swimming Association," explains Bezalel.
"Originally, we had been asked to supply a ceiling mounted rail-cam to give us our top-shot of the pool, and capable of following the swimmers. Having seen DynamiCam's solution in action at a series productions, we felt it was the perfect upgrade to our production capabilities. Not only would it give us our top shot, we could also capture more dynamic, 360 degree, coverage of the individual lanes from a single camera position."
A pilot for the gimbal and camera operator worked side by side to coordinate shots, with the camera operator using the ATEM Production Studio 4K's CCU software, over a fiber connection, to remotely control parameters, including iris, shutter speed and white balance, on the Micro Studio Camera 4K
"Remote camera control is essential for any live multi camera broadcast environment, particularly when you are mixing signals from a variety of cameras, as we were at the Championship," concludes Bezalel. "The more parameters that we have control over, the better the images we are able to produce. The ATEM Camera Control also allows lift, gamma and gain control for individual color control, so the our crew was able to ensure the same level of consistency from the Micro Studio Camera 4K that we were achieving across the rest of our OB production.