Expanding outside broadcast horizons
Fibre-optic cables have been used in outside broadcast installations since the 1990s but, as the industry makes the transition to 4K and UHDTV there is a greater reliance on using them outdoors. Viewers increasingly want to watch major sporting events and concerts in 4k definition, and many large stadiums and concert venues have invested in the necessary fibre-optic infrastructure in anticipation of the arrival of the broadcasting operators.
However, there are numerous other venues that host smaller or less frequent events where large-scale permanent fibre infrastructure is too costly or impracticable, and here the concept of temporary or "tactical" cables becomes attractive.
While modern transmission technology allows outside broadcast companies to send all the necessary video, audio and data down one cable, the temporary nature of such installations – plus the fact that they are often exposed to the vagaries of the weather and the stresses of assembly and installation on site - means that any connectors used need to be both robust and "idiot proof". Crews are also under increasing time pressure for faster set-ups and tear-downs, especially in and around public places, and therefore need connectors that are quick and easy to connect as well as being secure and resilient. 
Connection technologies
For TV studio and internal outside-broadcast vehicle conditions, various traditional standardised butt-joint fibre-optic connection technologies are increasingly preferred to copper types, as they offer improved bandwidth signal handling over larger distances and different signal types can be multiplexed over a single fibre-optic cable.  In addition, fibre optics allow bi-directional communication whereas copper systems can only transmit in one direction.
In addition, fibre-optic cables are small and lightweight compared to copper alternatives: a particularly important point inside outside-broadcast vans in order to save space and minimise the overall weight of the installed vehicle. Finally, fibre-optic cables are inherently immune to EMI/RFI interference and cannot contribute to ground loops.
One of the other key benefits of fibre optic systems is their general immunity to interruption by moisture or immersion in water, as there is no electrical current to cause short circuits
However, it is the environmental operational conditions that need to be considered carefully when installing fibre-optic cabling systems in the field. Particular attention has to be paid to the potential for ingress of dust and dirt, especially for multiple mating situations: so much so that butt-jointed fibre-optic connector types are only normally suited for controlled environment conditions, where dirt and dust is minimised and connectors can easily be routinely cleaned. Nevertheless, it is possible to apply fibre optics in much harsher environment operating conditions, such as those experienced in outdoor installations, by utilising expanded-beam fibre-optic connector design technology.
Expanded beam FO connector aluminium shell housings
Expanded-beam connectors
In an expanded-beam connector, the diameter of the optical beam is expanded by approximately 40 times, and this expanded beam is coupled into the opposite connector before being collimated back down to the original beam size and re-coupled into the fibre. Since the beam size is expanded by as much as 40 times, the influence of a 0.02 mm piece of dirt between a pair of ceramic ferrule-based connectors is reduced by 40 times in a pair of expanded-beam connectors. 
It is this effect of collimating and greatly increasing the optical beam diameter that results in the connector being less sensitive to small particles of dust or other contamination, which could completely obscure transmission in butt-joint type connectors. 
The aluminium shell housings of these expanded-beam fibre-optic connectors have a hermaphroditic mating design which means that there is no possibility for mismating. As a result, they allow easy "daisy chaining" of end-to-end terminated cable assemblies in accordance with the allowable power budget. This means that multiple mating can be achieved, supporting repeated temporary outside-broadcast field installation conditions to an IP 68 protection degree.
Harsh environments 
Such expanded-beam FO cable assemblies can be safely applied even in the harshest of conditions. For example, even the unmated open face of a lensed connector can be totally immersed in mud and this will cause minimal damage to the optical faces within the insert. The affected open connector can initially be cleaned by rinsing it in water and then the inner optic faces dried and simply wiped clean with a cloth or tissue, fully restoring signal transmission operation.
Daisy-chain and through bulkhead I/O cable assemblies are supplied with fitted covers, as it is always good practice to minimise the ingress of dirt and dust in any fibre-optic connector where possible, thus further extending its lifetime.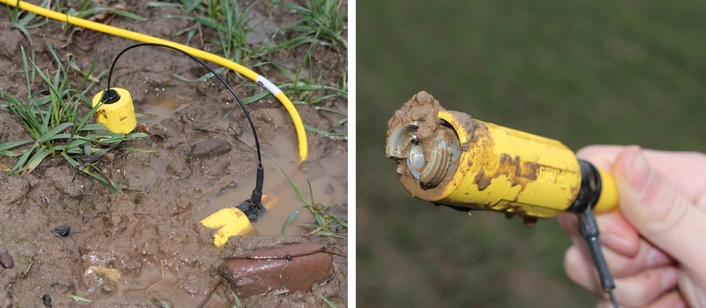 Expanded beam FO connector used in harsh environments
The aluminium shell housings and covers have a shock-protected rubber boot, and the interlinking fibre-optic cable includes an inner Kevlar crush-resistant sleeving that provides cushioned protection to the integrated optical fibres. As a result, the daisy-chain cables offer a rugged and robust field installation solution. The distinctive yellow colouring of the HARTING expanded-beam FO cable assemblies enables users to easily identify them as containing fibre-optic components and sets them apart from other copper-based cables. Users can then ensure that they take account of the allowed fibre-optic bend radius characteristics for the installed laid cables.
Conclusion
The HARTING expanded-beam fibre-optic connectors and cables described in this article provide outside-broadcast systems integrators with full assurance of their long-term reliability, ensuring continuity of service even under harsh environmental installation and operating conditions.