Broadcast Solutions and WDR Develop Two New Radio OB Vans
An essential goal of the customer WDR was to obtain two smaller radio OB vans that offer the same functionalities and acoustic values as larger vehicles. Broadcast Solutions designed the OB vans as transporter-like vehicles with box bodies, weighing less than 7.5 tonnes when fully equipped. The main challenge for Broadcast Solutions was the planning and installing the overall acoustic insulation. With a lower overall weight as in larger vehicles, the insulation has to offer the same sound insulation characteristics as in larger vehicles in which a higher weight is dedicated especially to insulation.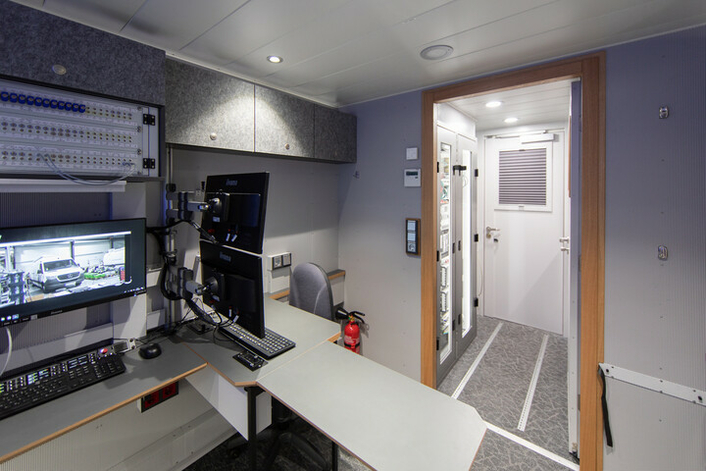 Further challenges were providing sufficient storage space, the extensive technical equipment and the deployment of a UPS, given the demanding mark of less than 7.5 tonnes total weight.
Broadcast Solutions paid just as much attention to an excellent acoustic environment inside the radio trucks. The vehicles have enough storage space to carry all the necessary materials (microphones, tripods, etc.), making a redundant support truck redundant. Both vehicles are equipped with a UPS that ensures autonomous battery operation for up to 90 minutes.
The audio control uses a Lawo console (mc²56 MKIII with 48 faders) with Lawo Nova 73 Core. A Riedel MicroN system is used to connect to the video truck and as a video router.
To easily connect a radio truck with a video OB van and simplify control, Broadcast Solutions deployed the hi human interface control system (an in-house development) in all three trucks. Simplified and touch-based user interfaces make it easy for WDR technicians to configure a vehicle or a group of vehicles without calling on external support. Further-on the trucks are equipped with the Riedel MicroN HD (radio vans) / UHD (video OB van) router system, which in the UHD version enables up to 400G backbone connectivity simplifying the connection and signal transport between the vehicles. One single optical fibre line is used to connect the two vehicles.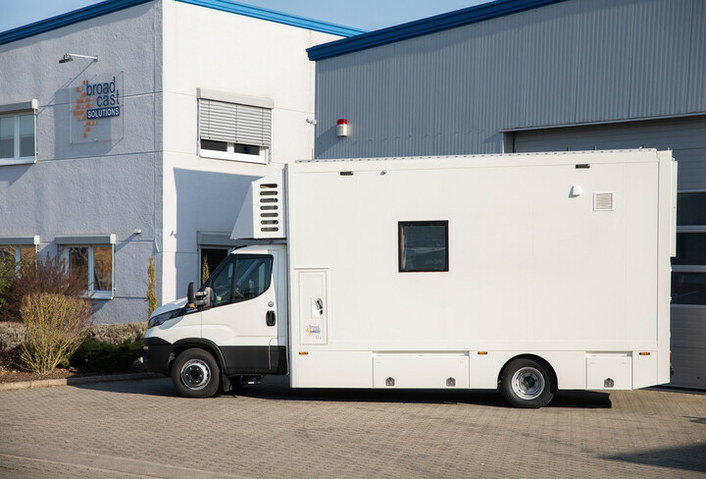 Technical data WDR radio van:     
Vehicle
Type                                        IVECO Daily 70C18A8/P
Gross vehicle weight              7.49 t
Vehicle length                         7600 mm
Vehicle width                           2300 mm
Vehicle height                         440 mm
Workspaces                           Audio control room and equipment room
Workplaces                            Workstations for sound engineer, sound technician and sound editor
UPS system                           for 90min battery operation of the entire vehicle
Hydraulic system                    for stabilising supports
To meet the requirements of the customer WDR, Broadcast Solutions installed the following equipment in the two radio vehicles.
Audio system           
Audio console                        LAWO mc²56 MKIII audio mixer with 48 faders
Audio router                            LAWO Nova73 audio router
Audio I/O                                 DIRECTOUT
Stageboxes                             2x LAWO mc² Compact I/O
Audio workstation                   2x Steller high-end audio DAW
Monitoring loudspeaker          GENELEC 8341 AP
Effect units                             LEXICON, WAVES, TC-ELECTRONIC, MAGIX, UAD
Intercom                                  RIEDEL Artist 32
Radios                                     RIEDEL Riface
Clock generator                      TEKTRONIX SPG8000A
Video matrix                            RIEDEL MicroN HD
Control system                        hi human interface
Video recorder                        BMD Hyperdeck
Monitors                                  2x 32" PHILIPS, 5x24" IIYAMA
PTZ camera                            PANASONIC
IT system
Network switches                    2x FORTINET 48-port
Firewall                                   FORTINET
PC                                           5x FUJITSU, APPLE
KVM system                           IHSE Draco tera enterprise with 48 ports
Transmission system FORTINET LTE