China's CCTV Trusts in Merging Technologies' Solutions
CCTV's choice for long duration, high track-count multitrack recordings has been confirmed as Merging's Pyramix 10 with Horus networked audio interfaces. Last year in Beijing, CCTV conducted a Chinese folk song competition which for the first time utilized Pyramix V10 systems. For this event, Pyramix recorded 128 tracks for more than 12 hours uninterrupted. This event served to prove the reliability and stability of Pyramix. Technicians at CCTV even joked, "After you press the recording button, feel free to sleep until the end of the program, just remember to wake up to stop it!"
Having gained full confidence in the Merging equipment, last September in Hangzhou, CCTV once again chose Pyramix as the system to be used for the opening ceremony of the G20 summit. That night also featured 128 live tracks and Pyramix was once again able to impress by operating flawlessly.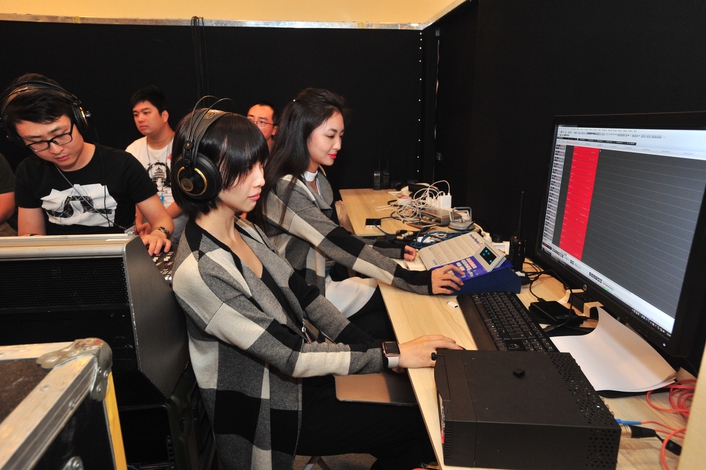 CCTV's audio department recording engineer,Yuan Xuecheng stated; "Pyramix has a clever DSP architecture. It's hardware, software and file format compatibility is very comprehensive. It has the ability to deliver stable ultra-long recording and playback of over 100 tracks and is able to handle all large and critical events. In addition, Pyramix provides us with an excellent compact audio interface, great clock for synchronization and has a user friendly monitor control. For that reason, Pyramix was able to successfully perform at the G20 summit, the program was recorded and edited for live television broadcasting."
CCTV are commissioning a new OB truck that is based on a total IP solution for video and audio. The audio part will feature a console from Lawo and another Pyramix MassCore 128 as their main recording system.
Merging's distributor for China is Merging Asia and its President, Weishen Xu remarked; "We have many prestigious Pyramix users in China but it is a great honour to have CCTV trusting in our products. They are covering so many important events during the year and we are very pleased to hear these comments from the technicians and to see this new order confirming their faith in the reliability of Pyramix."
Merging Technologies SA is a Swiss manufacturer with over 25 years of experience in developing groundbreaking, professional Audio and Video products for a wide range of entertainment and media industries.  With a dedicated user base in the elite end of the music, film, television, mastering and performances industries, Merging is committed to developing product ranges with unrivalled quality and flexibility, no matter what the application. Merging builds tools for people who want more from their systems, have an inherent need to push boundaries, and believe that quality always comes first.
RAVENNA is a solution for real-time distribution of audio and other media content in IP-based network environments. Utilizing standardized network protocols and technologies, RAVENNA can operate on existing network infrastructures. RAVENNA is designed to meet the strict requirements of the pro audio market featuring low latency, full signal transparency and high reliability and is fully AES67 compatible. With a capacity of nearly 8 x MADI streams over a single Gigabit Ethernet link, it is also the first and only Layer-3 based IP audio protocol with full support for high-channel count DXD and DSD signals.
While primarily targeting the professional broadcast market, RAVENNA is also suitable for deployment in other pro audio market segments like live sound, install market and recording. Possible fields of application include (but are not limited to) in-house signal distribution in broadcasting houses, theatres, concert halls and other fixed installations, flexible setups at venues and live events, OB van support, inter-facility links across WAN connections and in production & recording applications.