Lawo V__remote4 debut at Australia Day Celebrations on Sydney Harbour
For the first time in a live production application, The P.A. People utilized Lawo's V_remote4 IP-based interfaces to transport broadcast video cameras and LED screen feeds in real time over a dedicated 10G network.  Singers on a floating barge some 120m from the shore performed to music generated by an on-stage orchestra, and then pictures were relayed back to the shore for broadcast. The only link to the barge was a dedicated weighted fiber cable which carried the video and audio signals between the broadcast van near the Sydney Opera House, the IMAG switching location and the barge.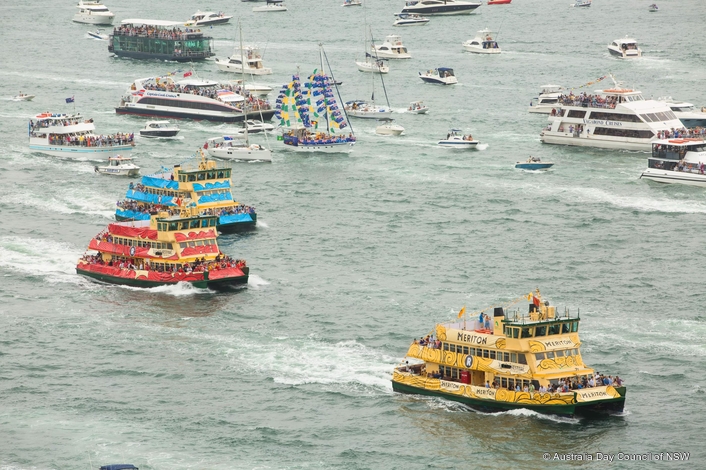 The Lawo product was connected to a temporary 10G network backbone based on The P.A. People inventory of Ruckus (formerly Brocade) network switches, dedicated single and multimode fiber and a number of wireless links. "The network and the Lawo product performed flawlessly" commented Paul Barrett, principal of Barrett Evolution and Technical Director for the project.  "Being IP based, the system provided by The P.A. People was able to allow creative freedom that would not have been possible with any other system.  Both the Broadcast and the IMAG directors were very pleased with the result"
Chris Dodds, Managing Director of The P.A. People mused "we have a long term and unique relationship with a number of our key suppliers including ClearCom and Motorola. We are excited to add Lawo to our roster of trusted suppliers and to be able to extend our commitment to IP as the transport of choice for all our Communications Systems with the V_remote4 product."
About The P.A. People
The P.A. People is a specialist integrator and contractor in production communications, performance lighting, sound reinforcement and audio-visual systems. Over its 40-year history the company has developed a reputation as a leader in these fields. Ensuring delivery of a fully integrated package, they offer world-leading communications services for a range of events from sporting, music, celebration and cultural activities in Australia, through to Olympic-level ceremonies, multi-sport events and major festivals internationally.       
The P.A. People is independent, Australian-owned and Sydney-based and operates locally, nationally and globally. Its activities are divided into three operational groups: Event Communications, Installed Systems and Sales Hire Service. Team members include technical and design officers, qualified tradespeople, and engineering and assembly personnel backed by support staff to provide complete permanent or temporary turnkey solutions.
About Lawo
Lawo designs and manufactures pioneering network, control, audio and video technology for broadcast and post production, as well as live performance and theatrical applications. Products include control and monitoring systems, digital audio mixing consoles, routers, video processing tools as well as solutions for IP-based A/V infrastructures and routing systems. All products are developed in Germany and manufactured according to highest quality standards at the company's headquarters in the Rhine valley town of Rastatt, Germany.